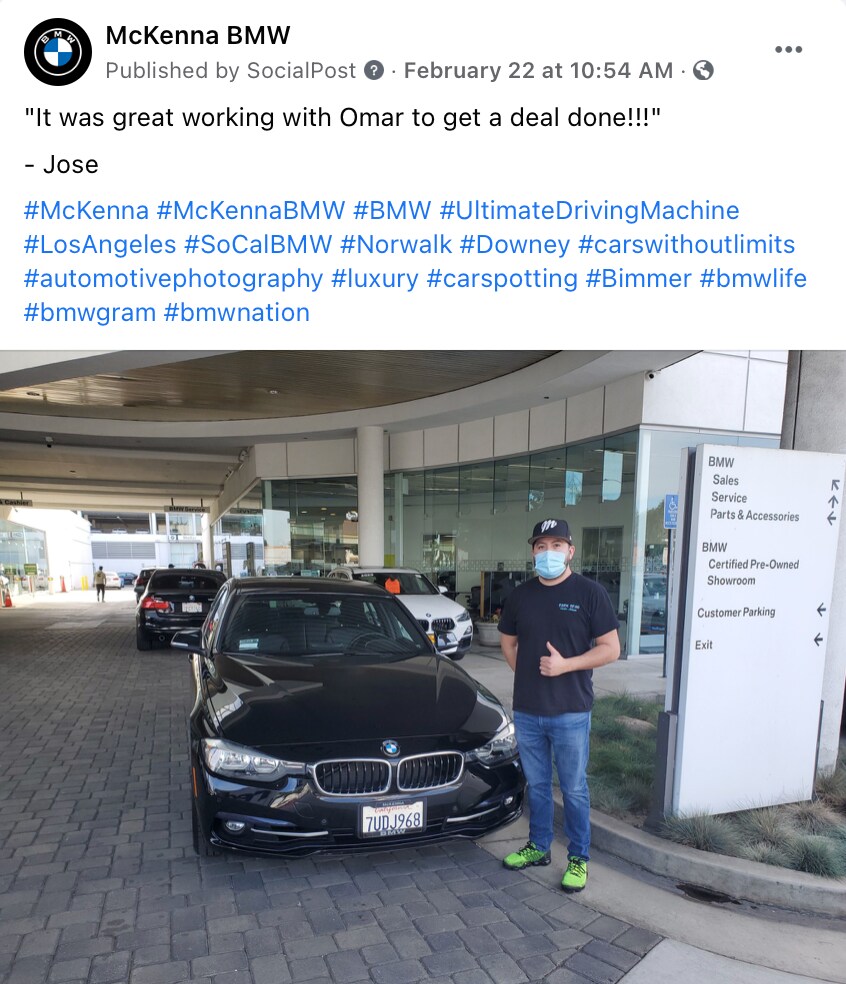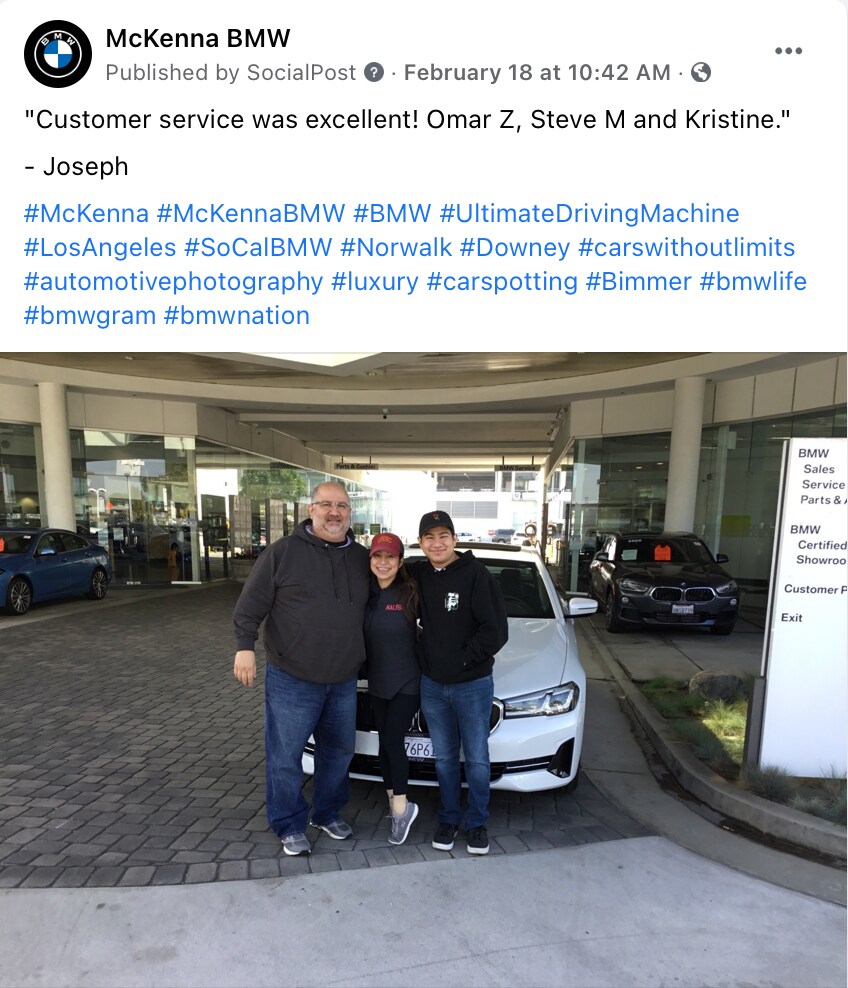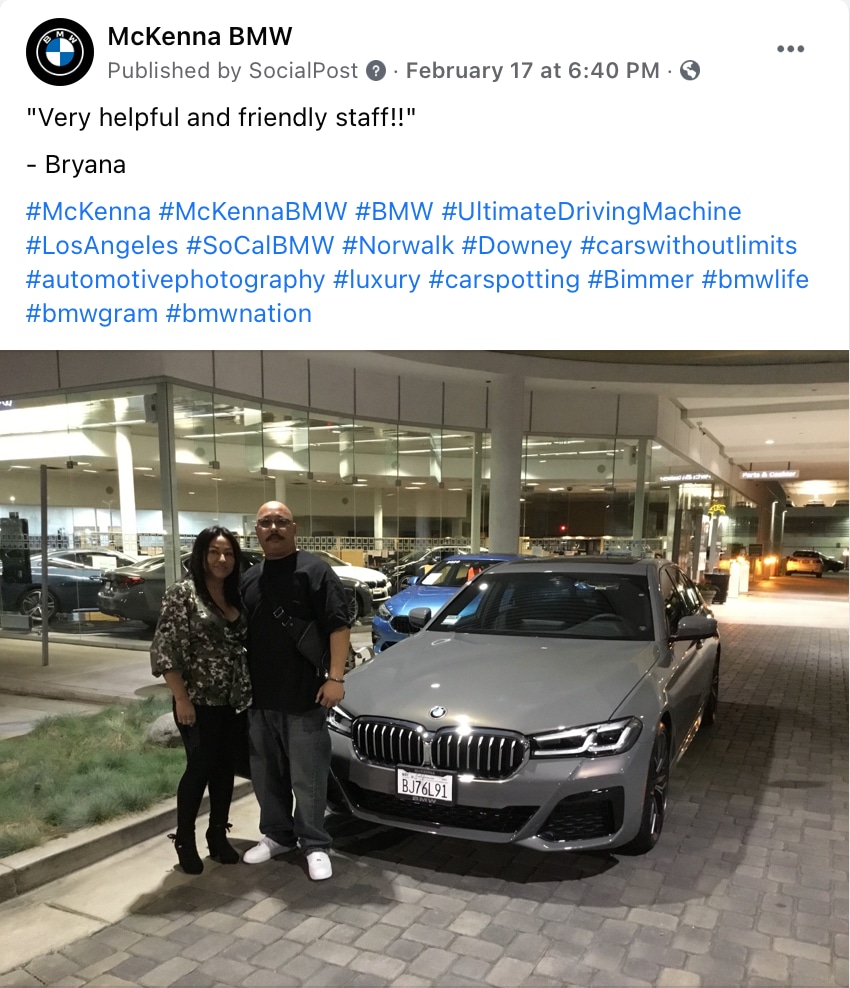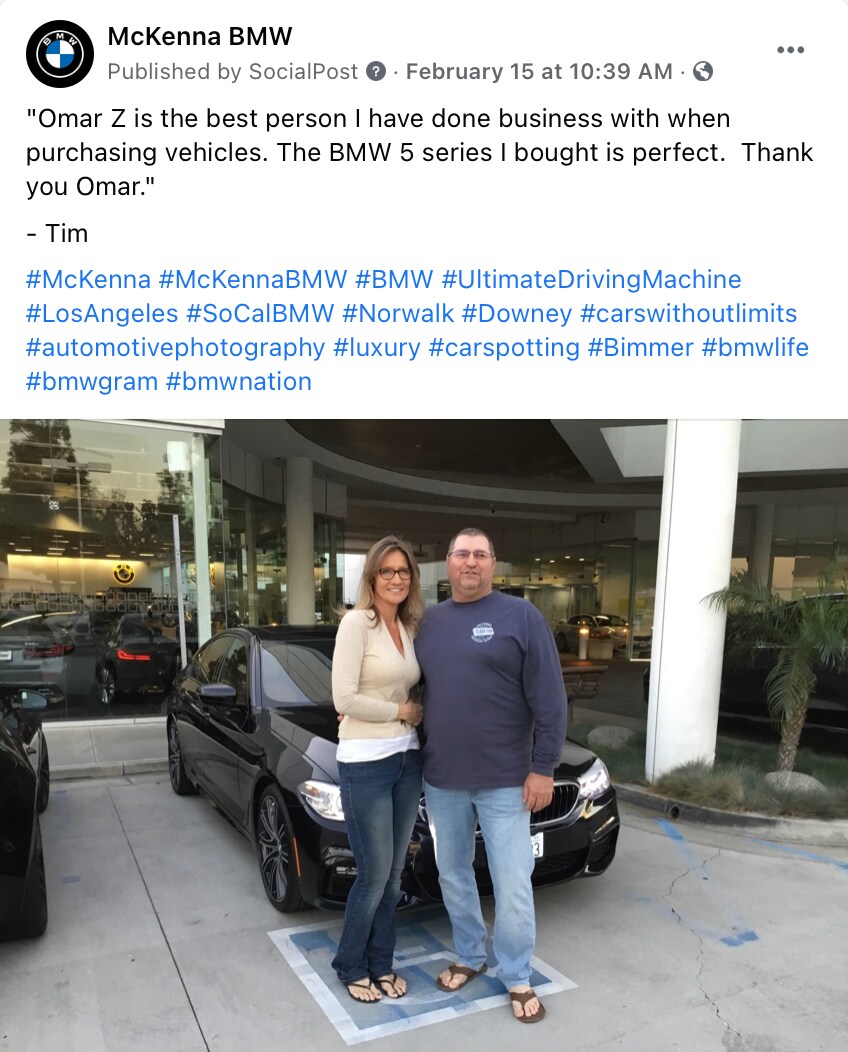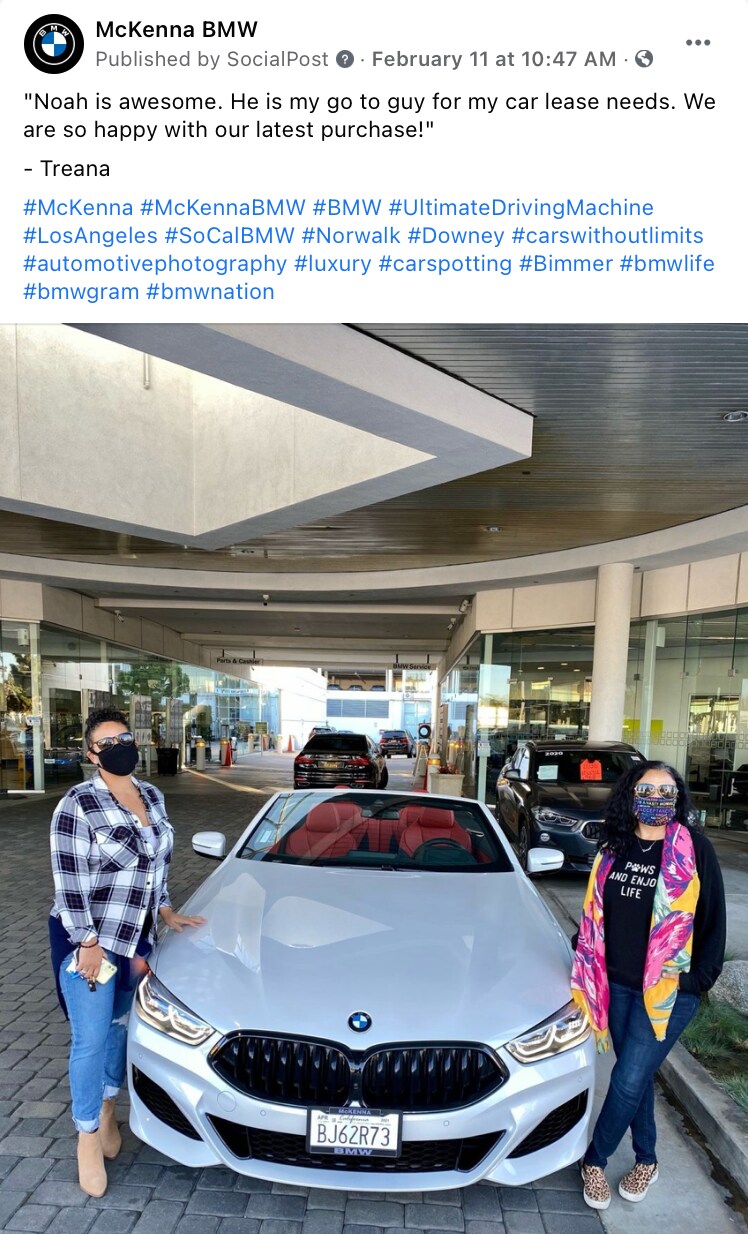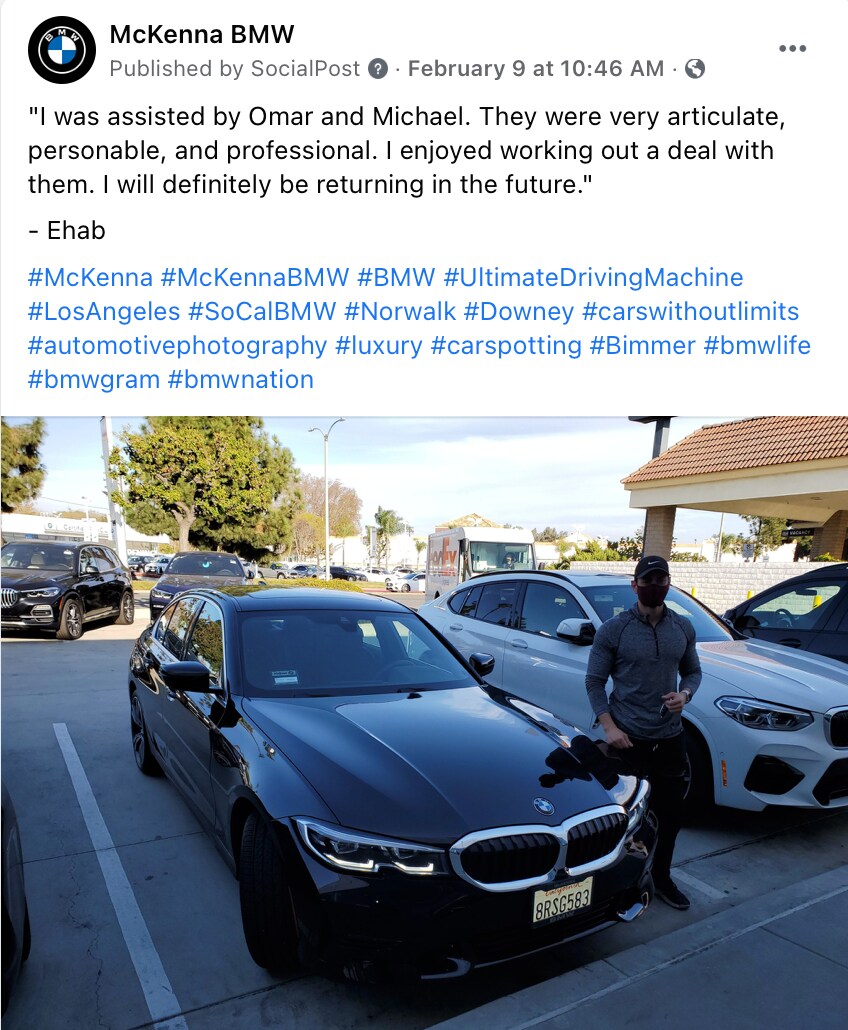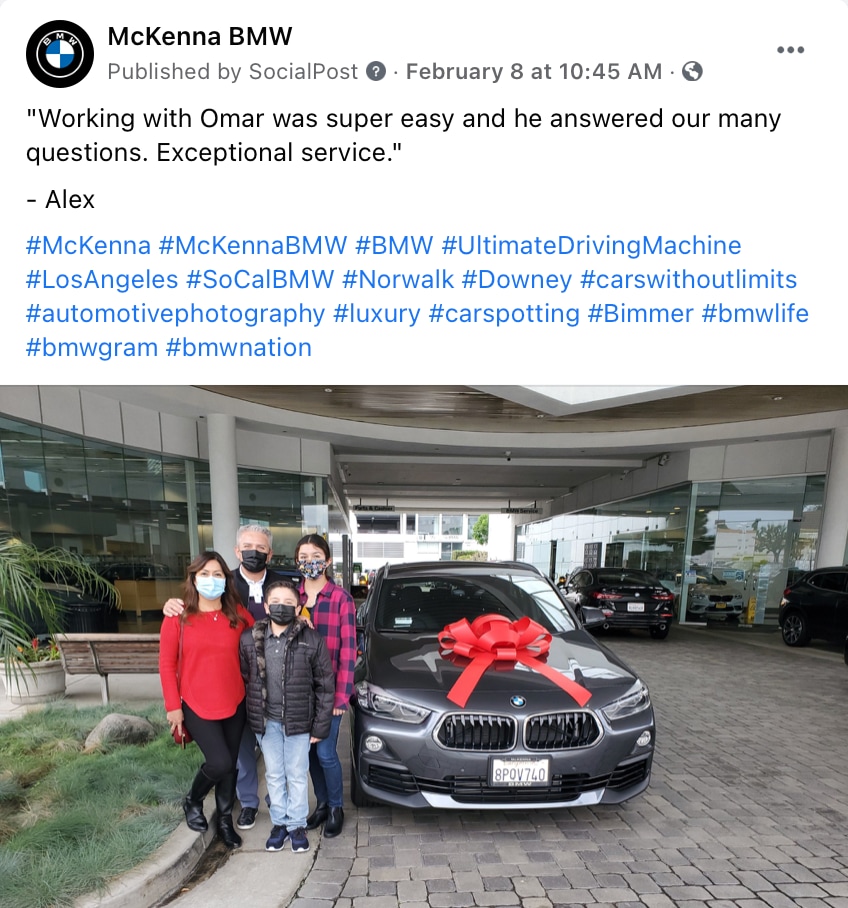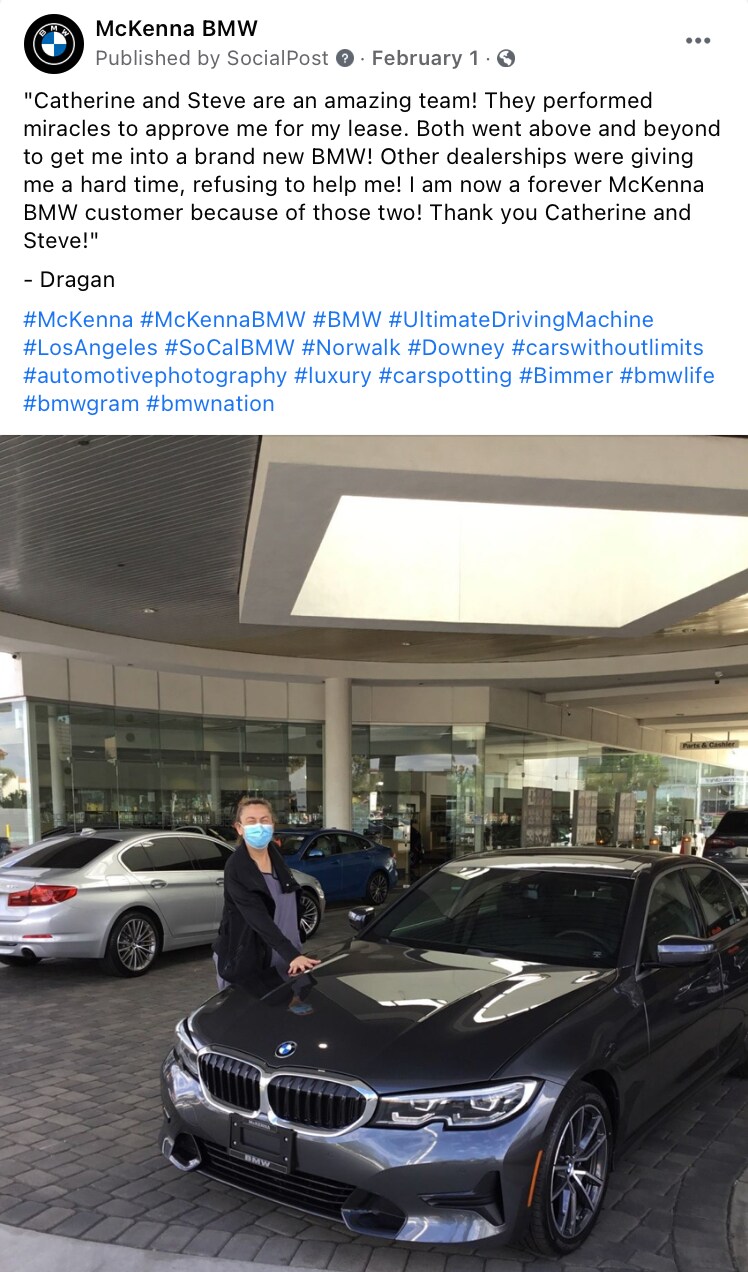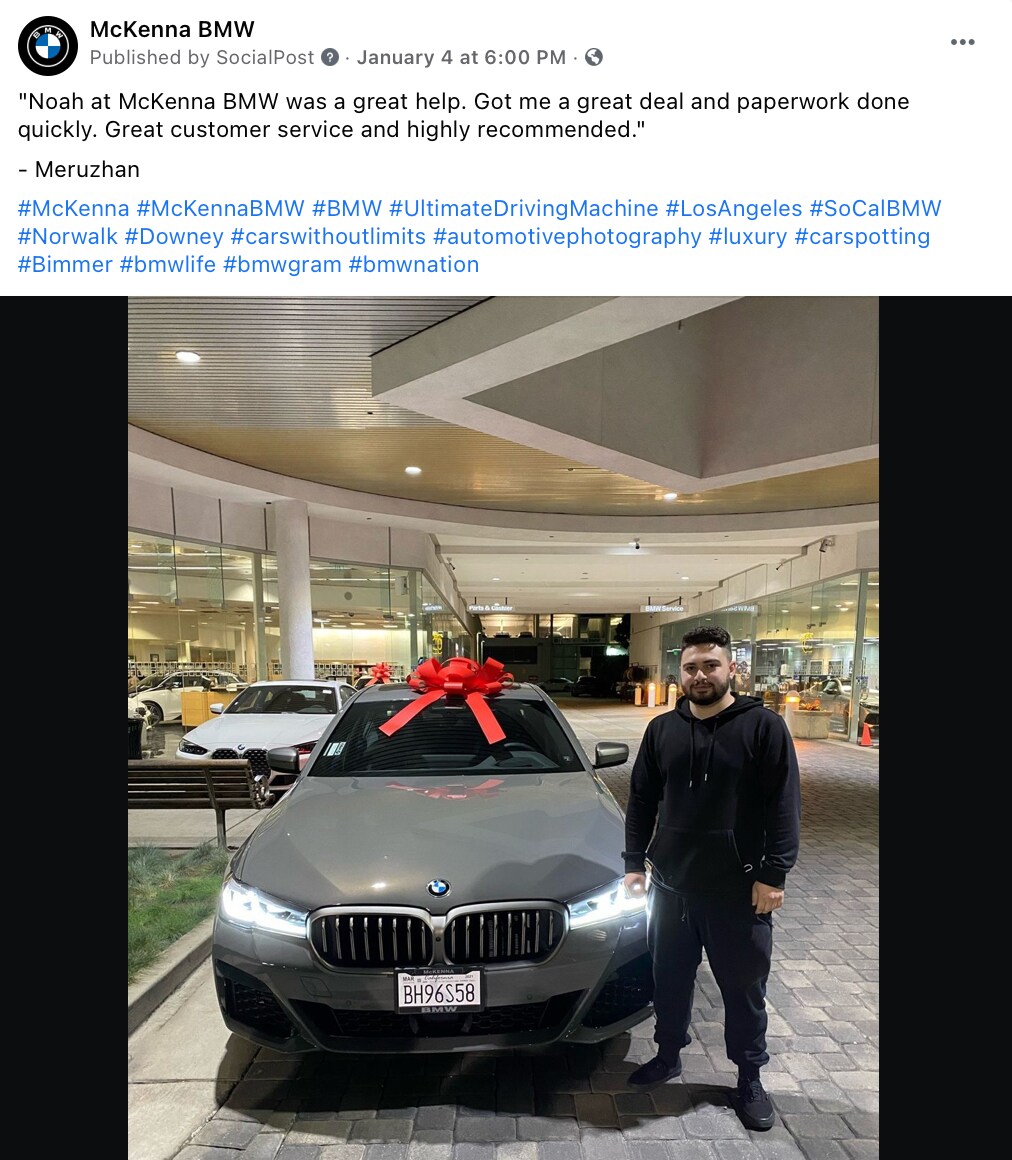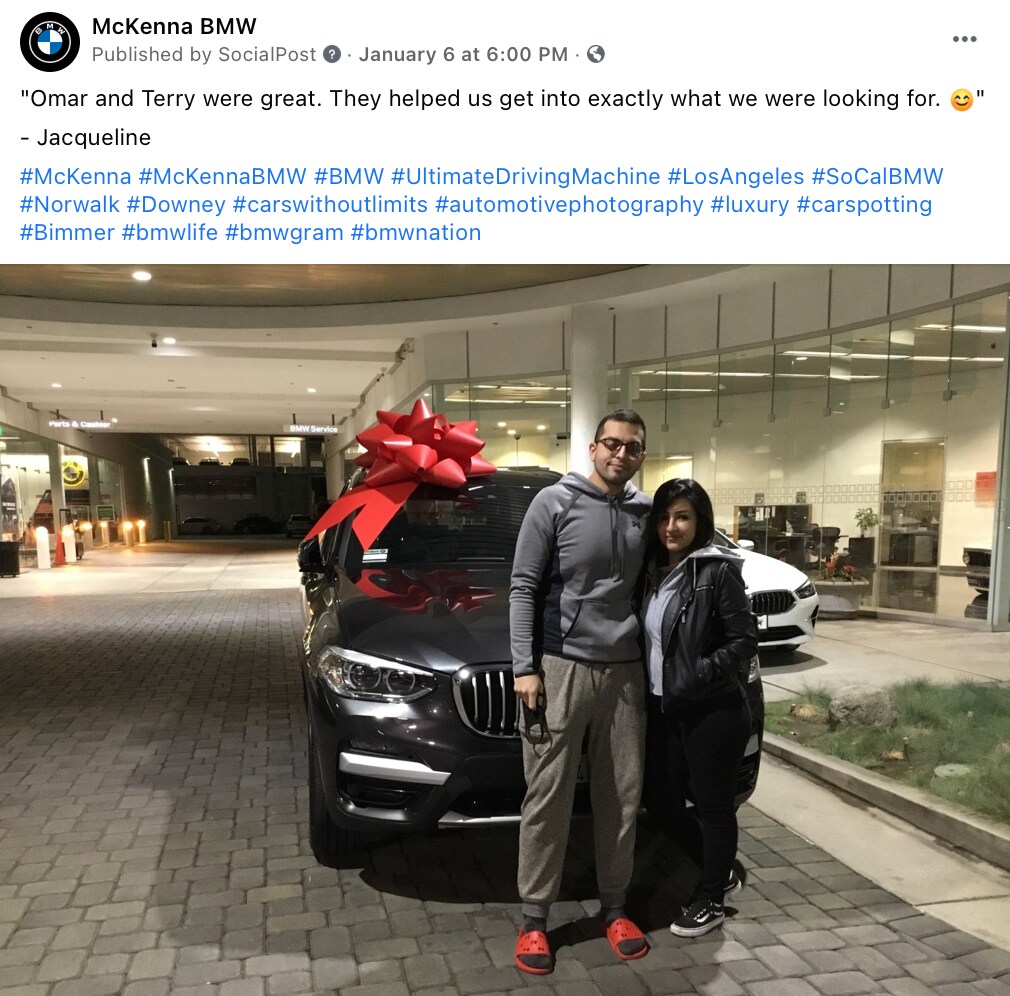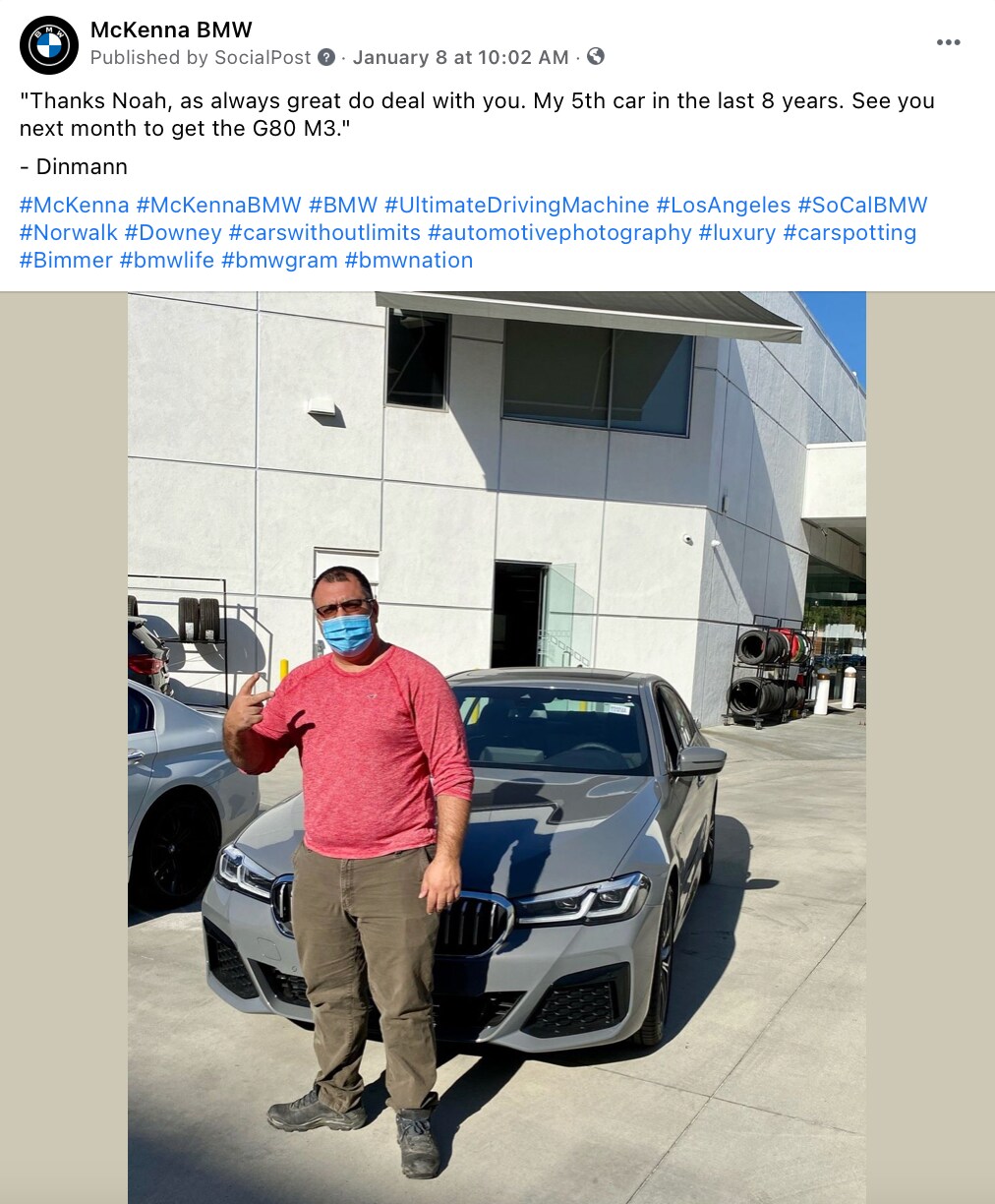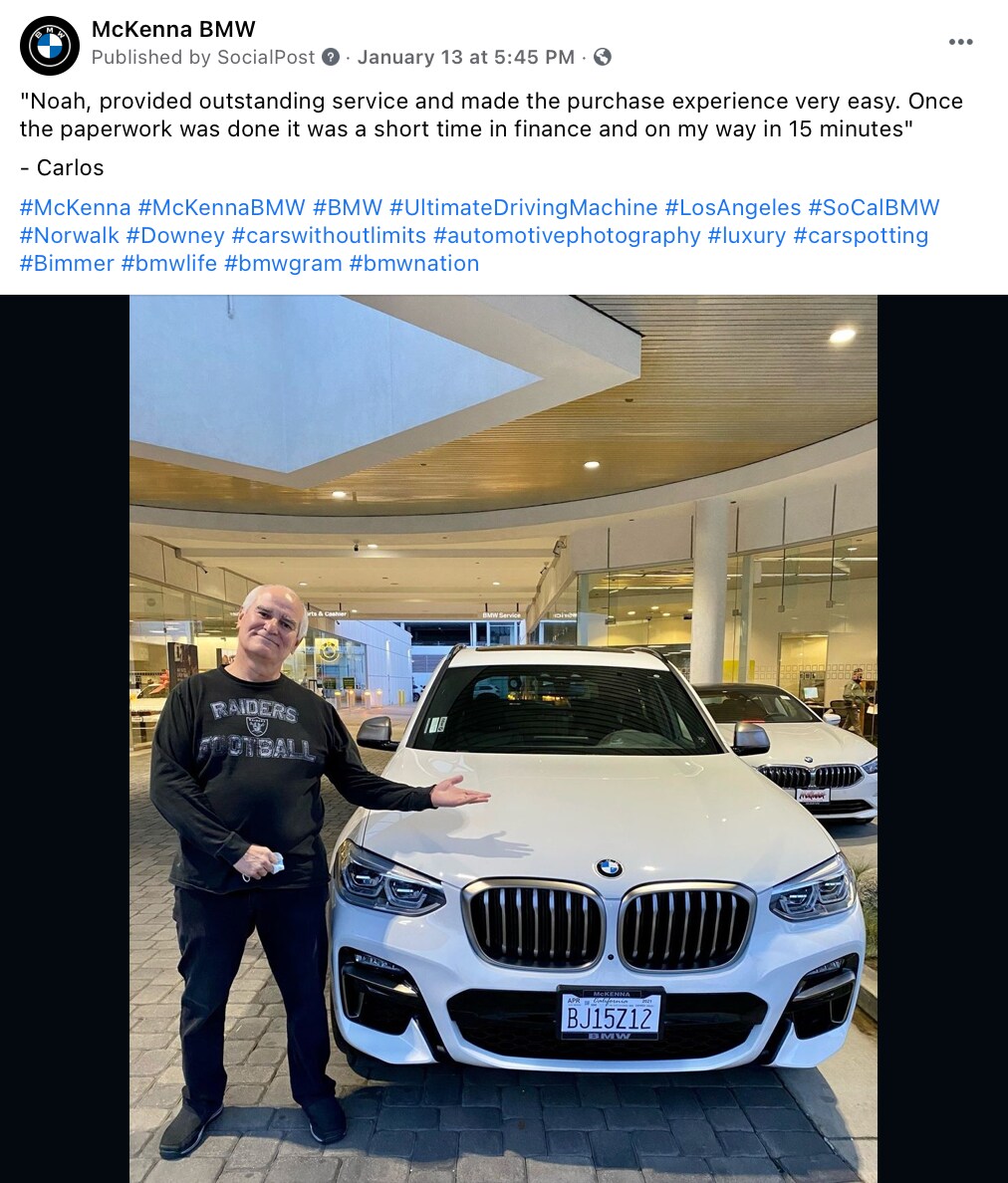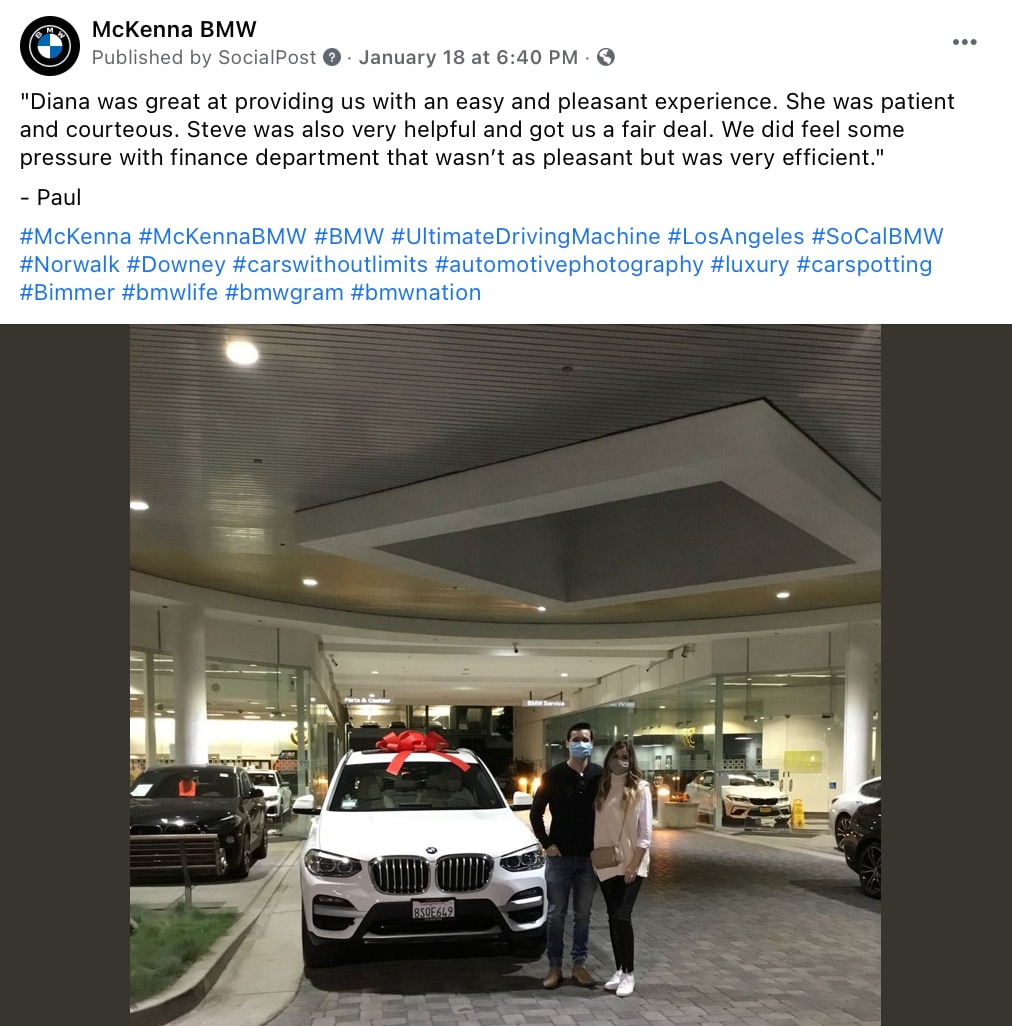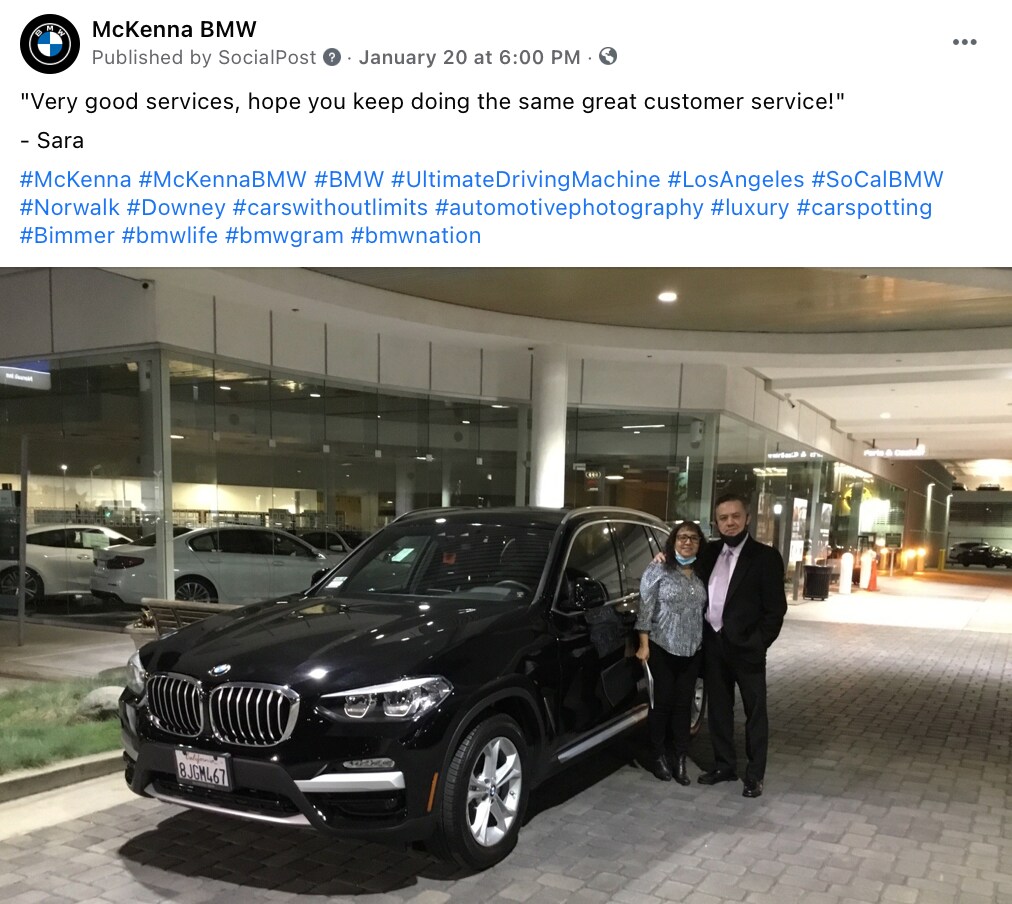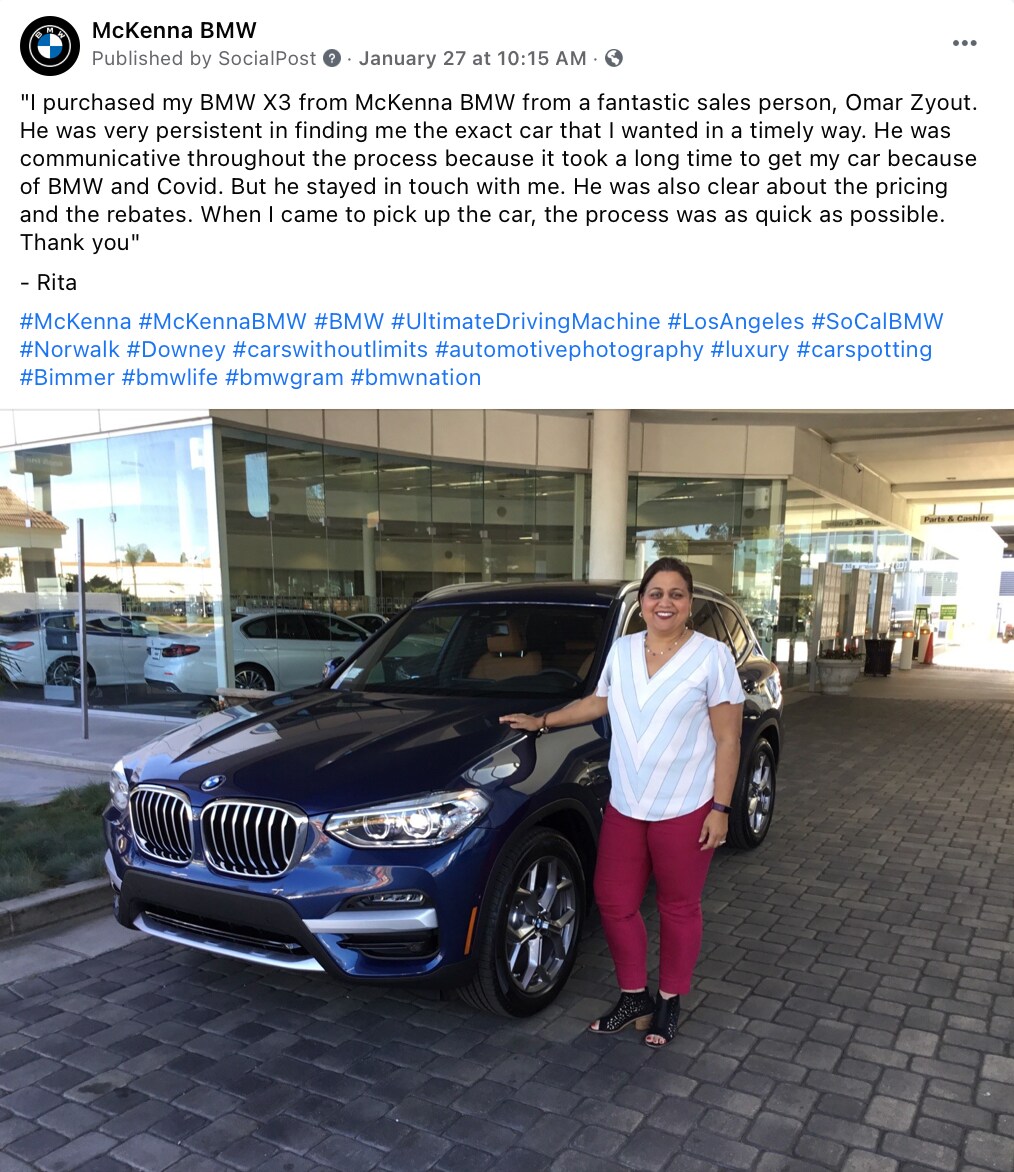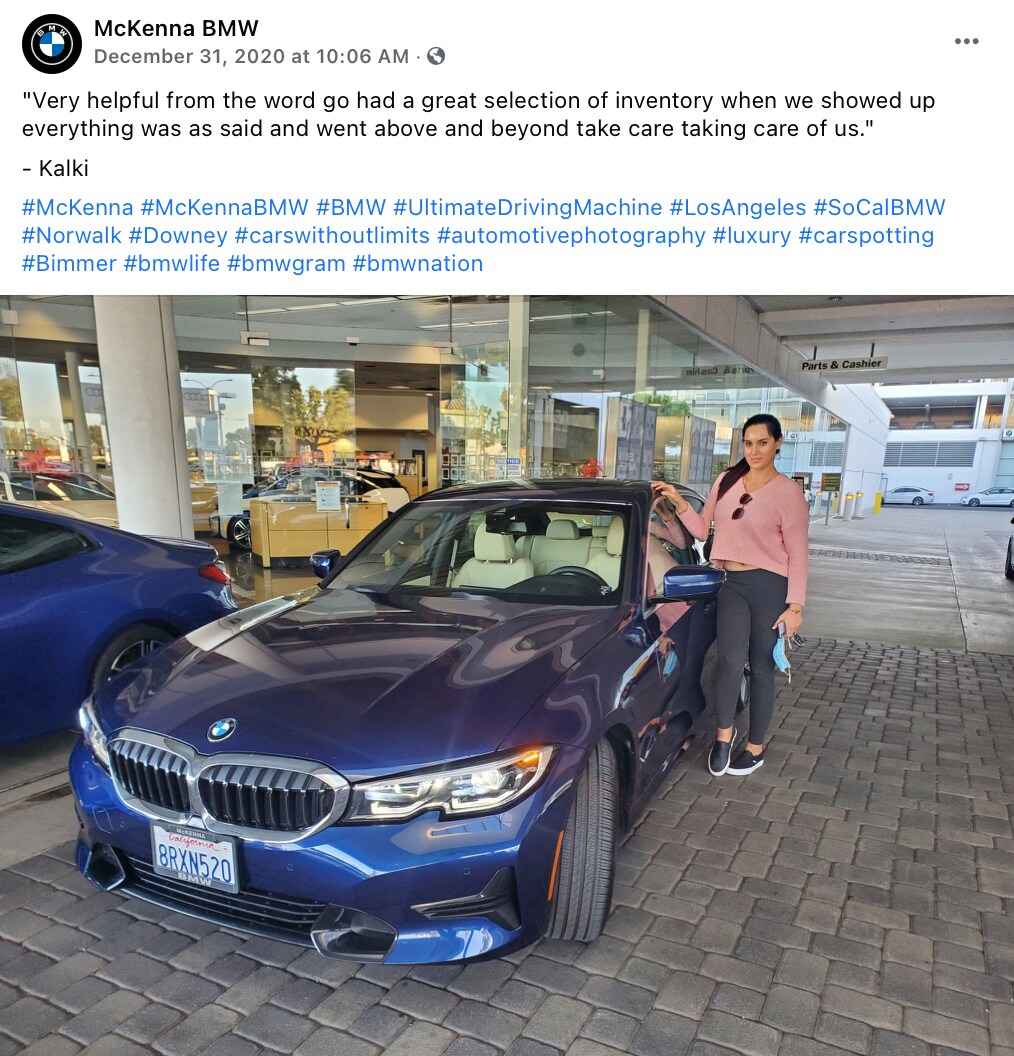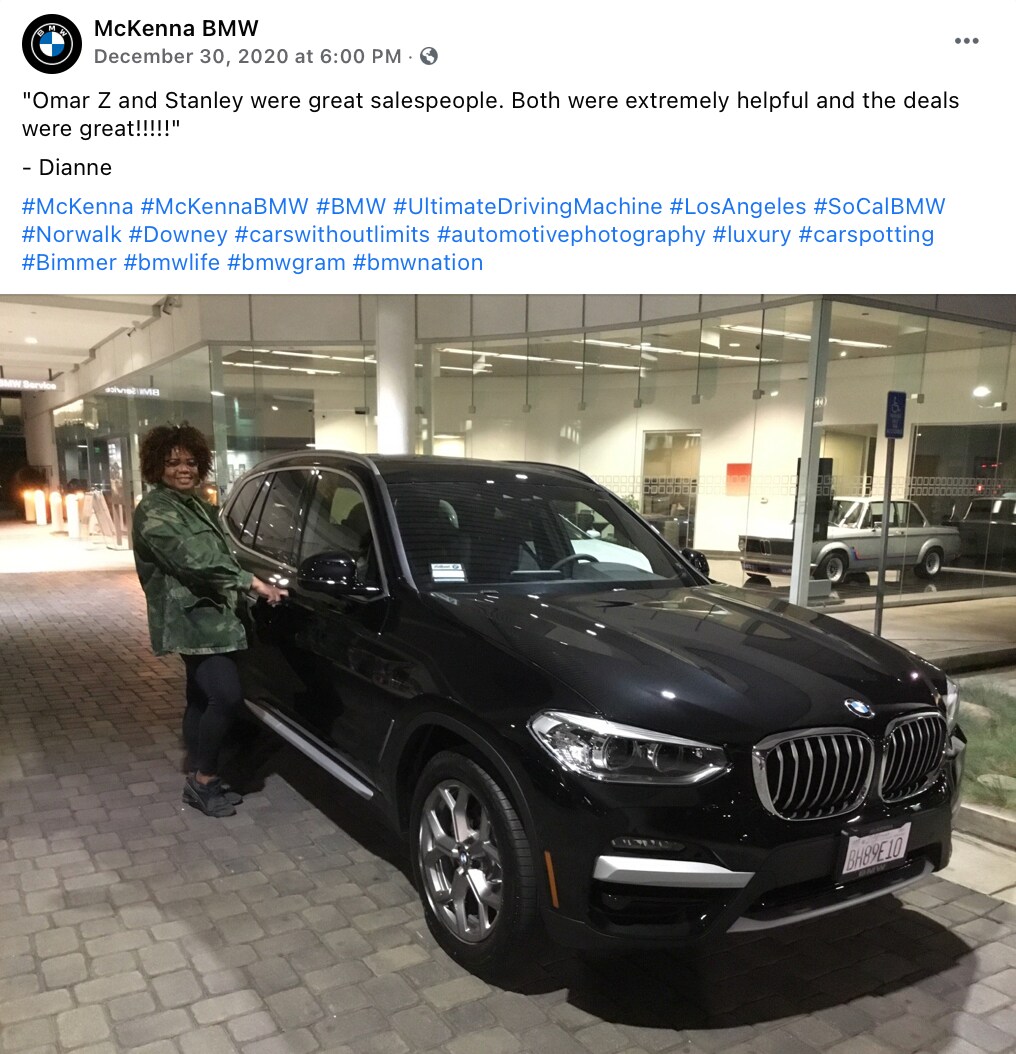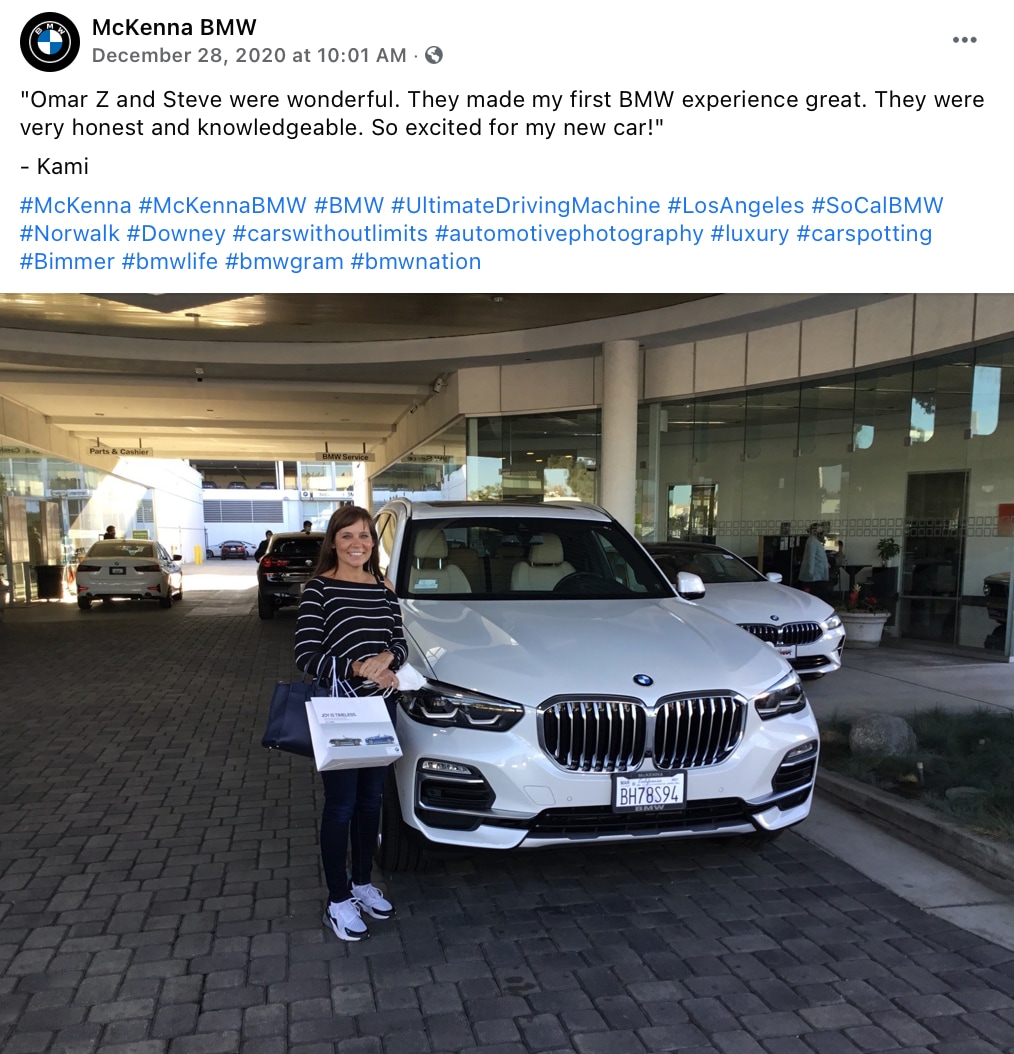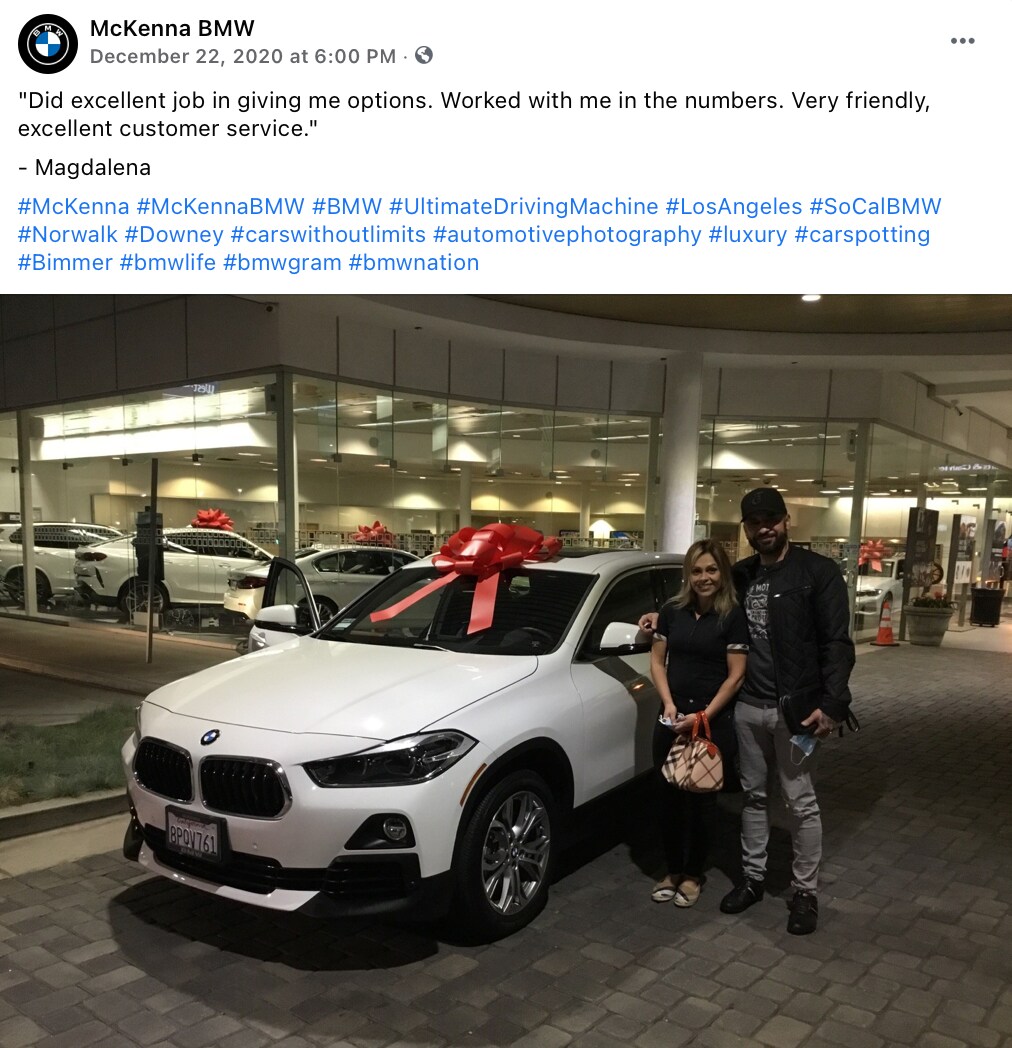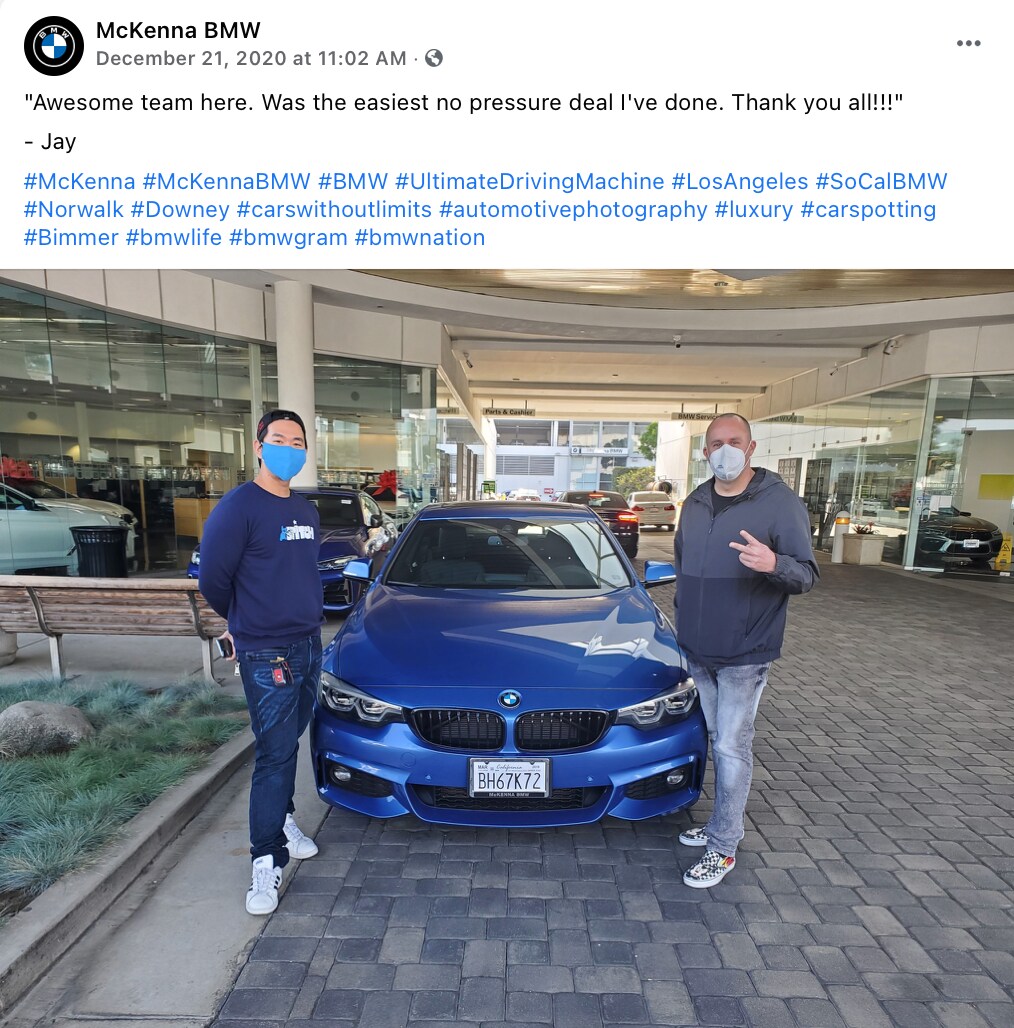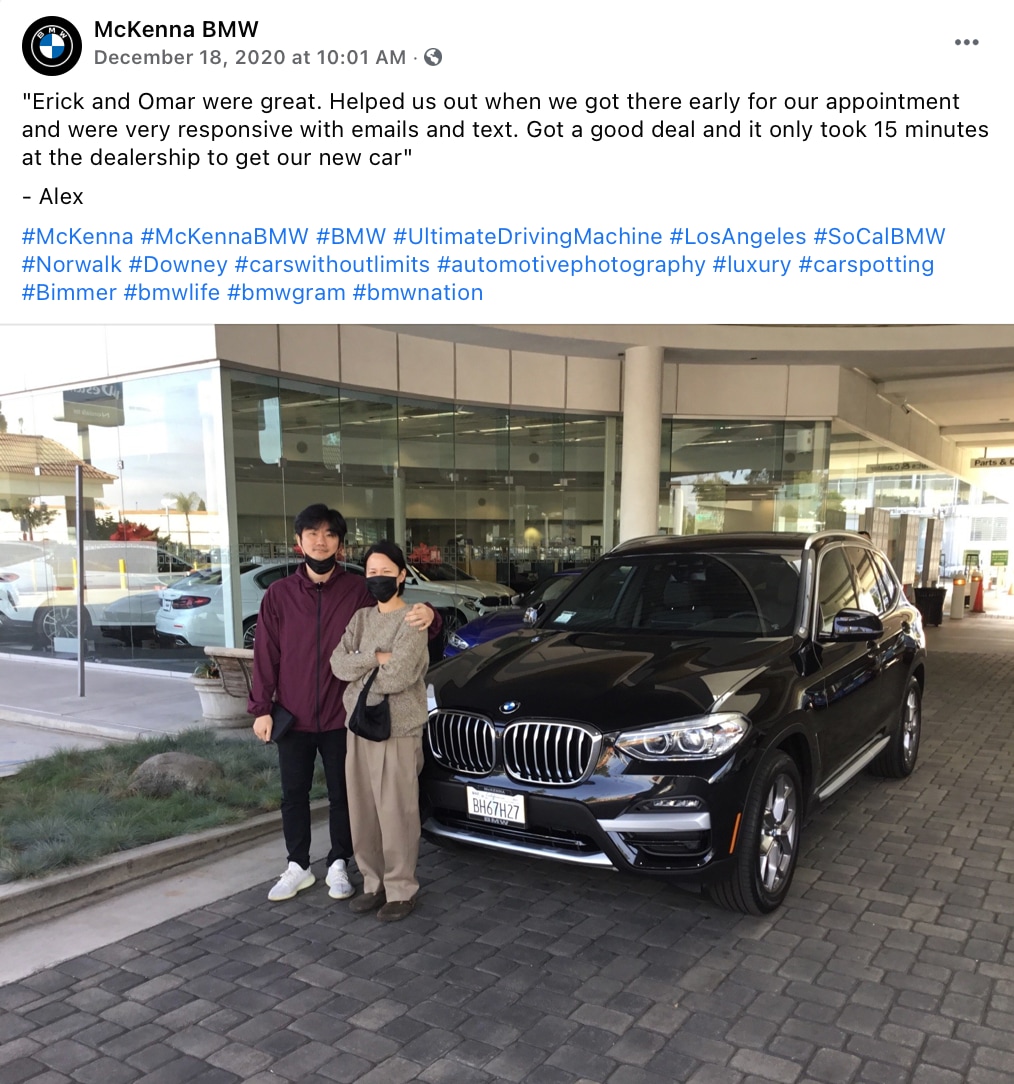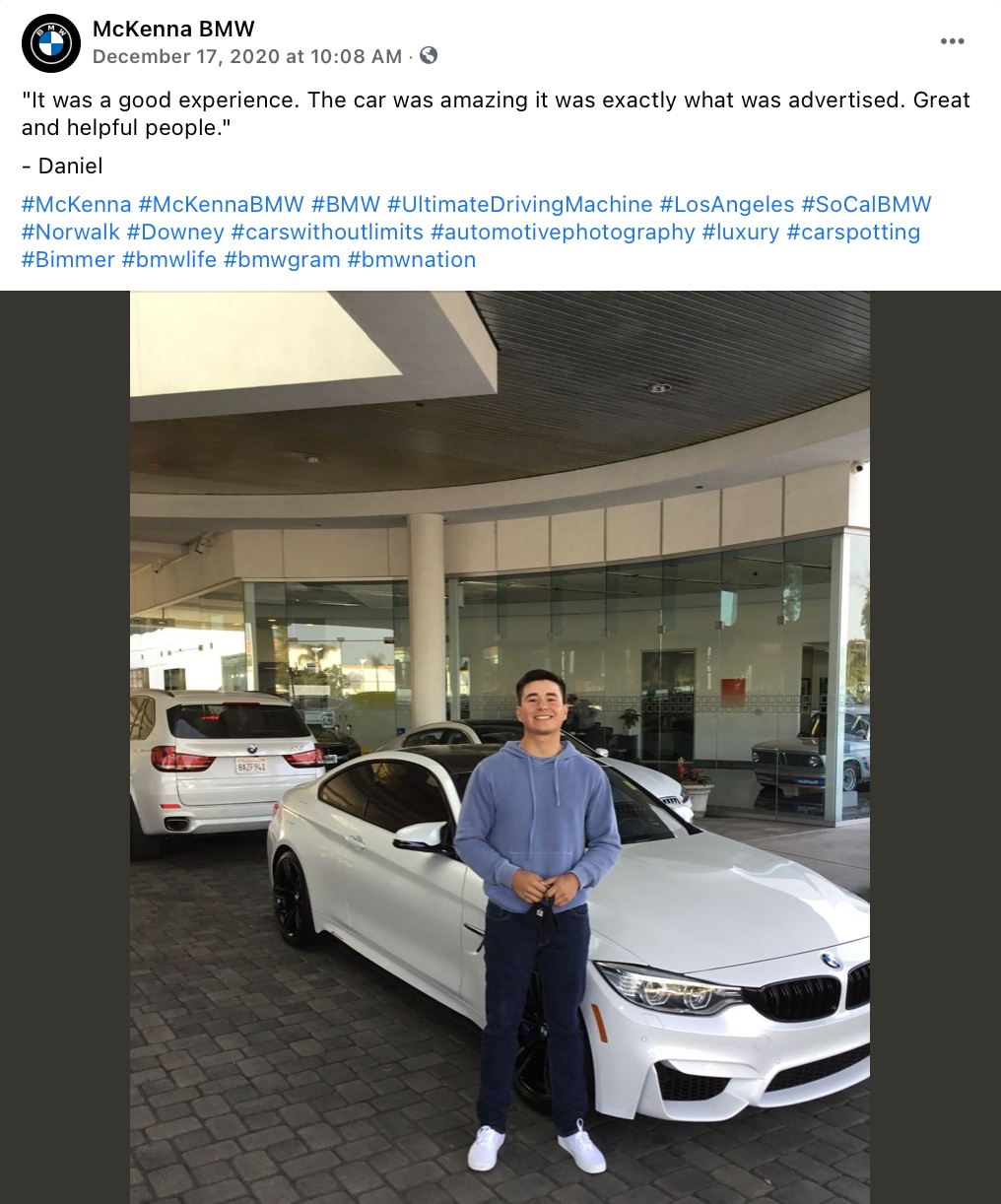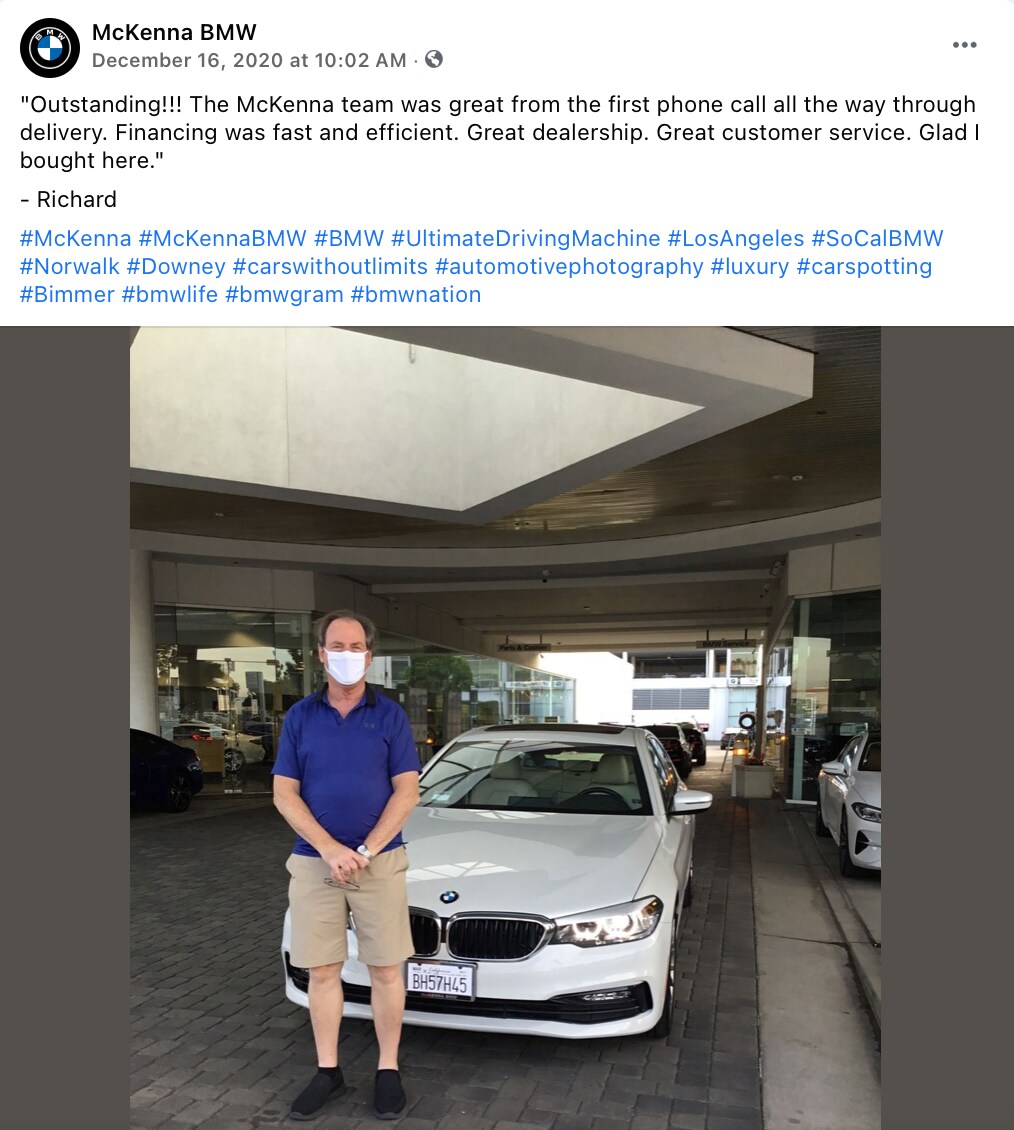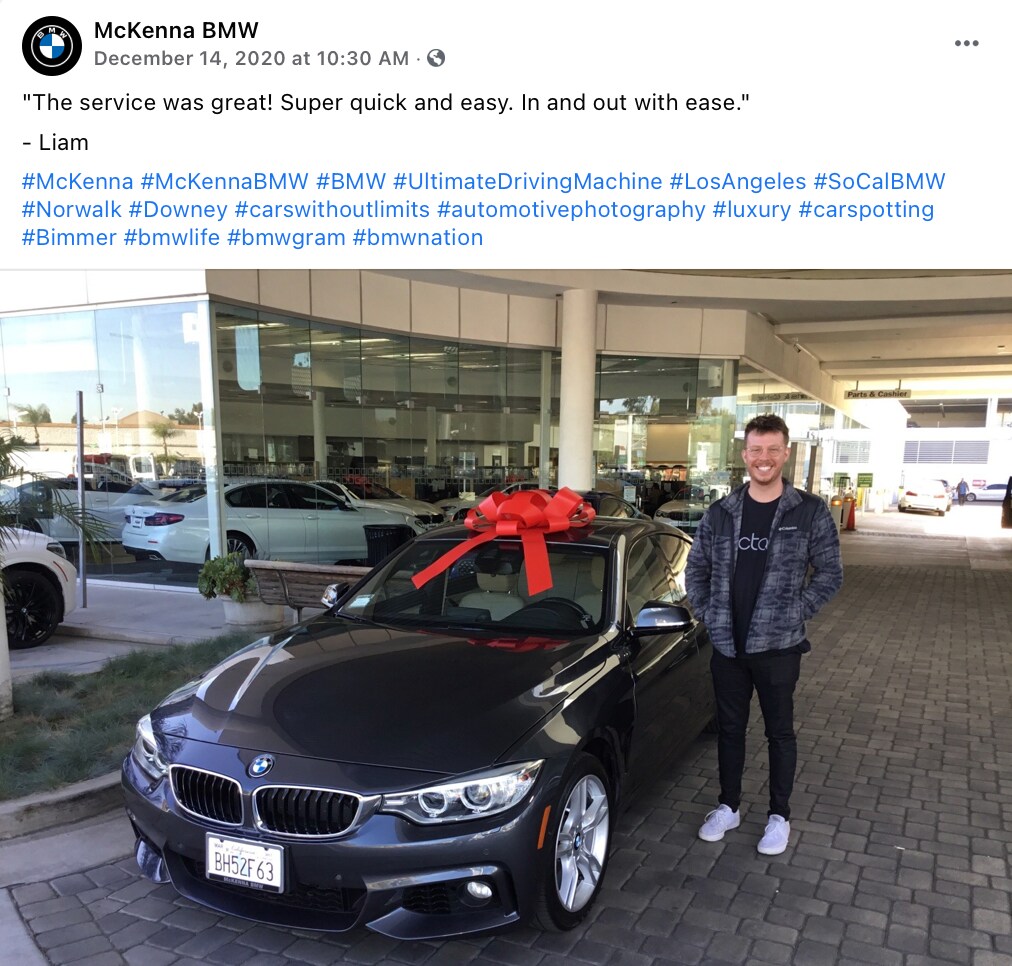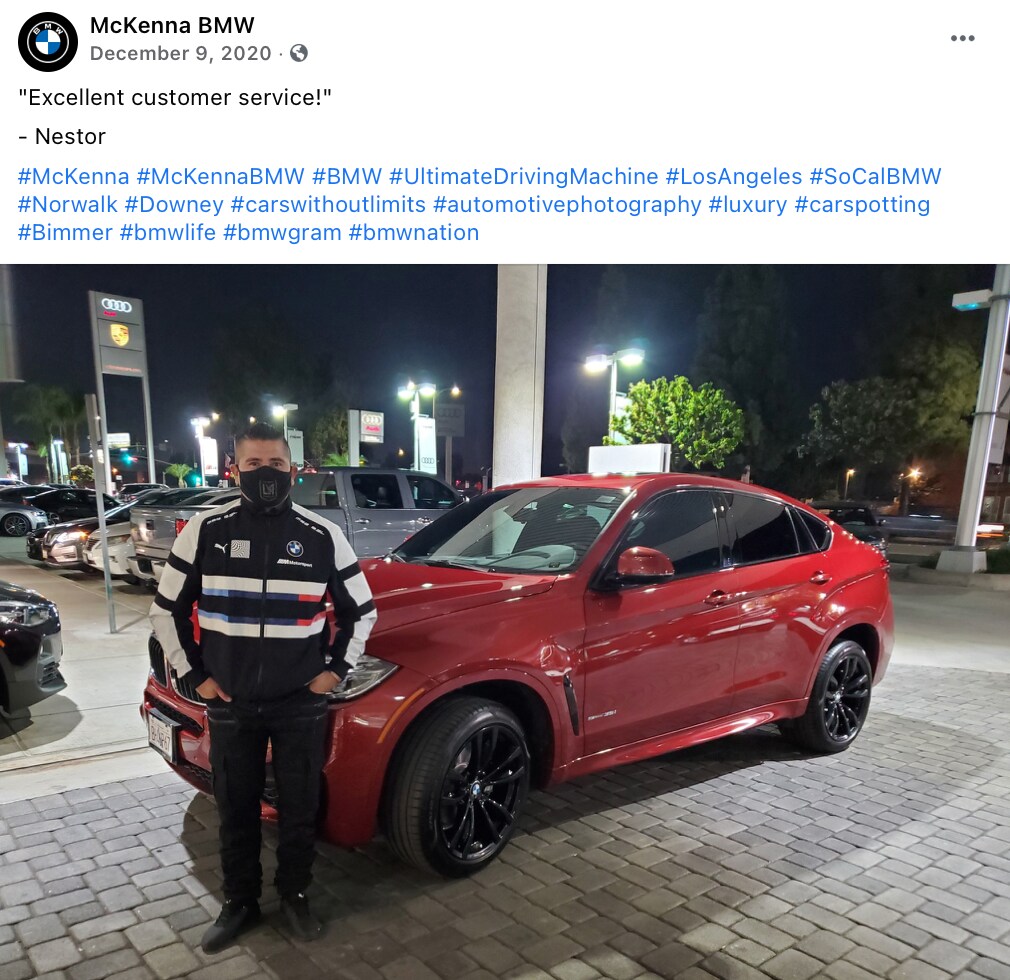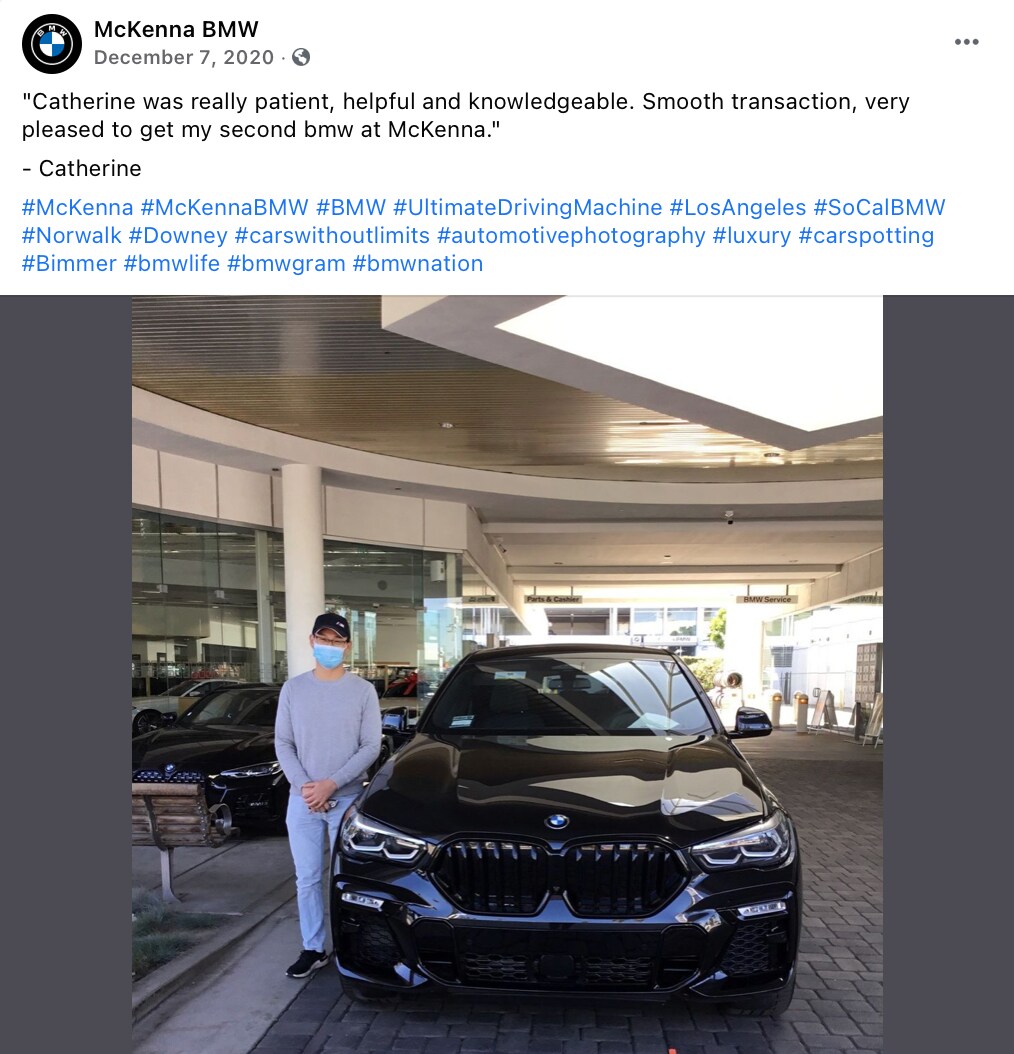 "From the moment we started the car buying process Omar Z. was knowledgeable, patient, and very helpful. He was responsive to all communications that was required to facilitate this purchase, and he always did it with a smile and great attitude. Once we came in to purchase my BMW, Michael and Steve were also great with completing the process. I am thoroughly satisfied with the service and would highly recommend McKenna to my friends and family."

- Alexandra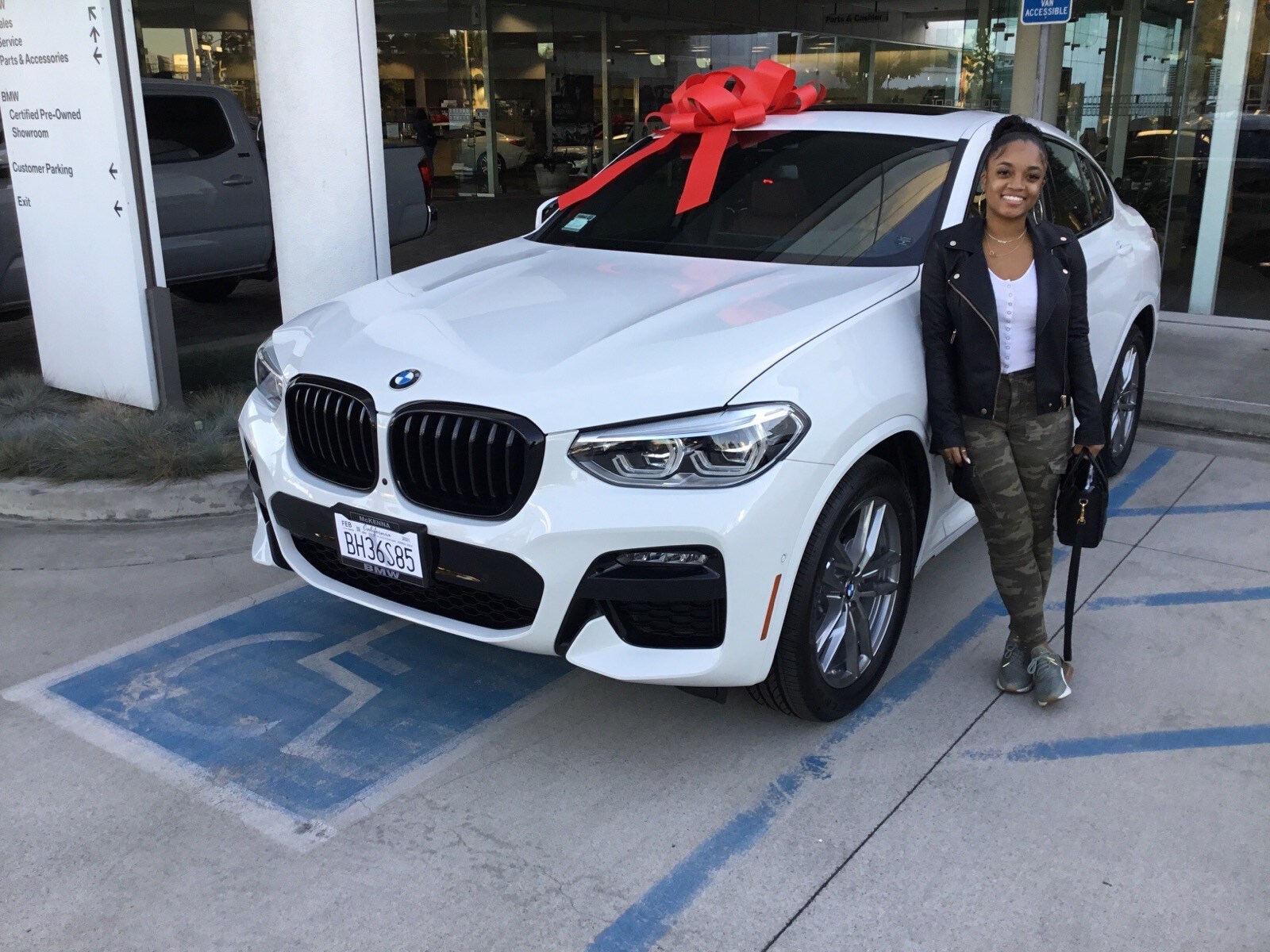 "Amazing!! More than amazing, Noah helped me find my dream car in the midst of the pandemic and I am very grateful! Everything was so smooth from purchasing to receiving the car, thank you!"

- Emily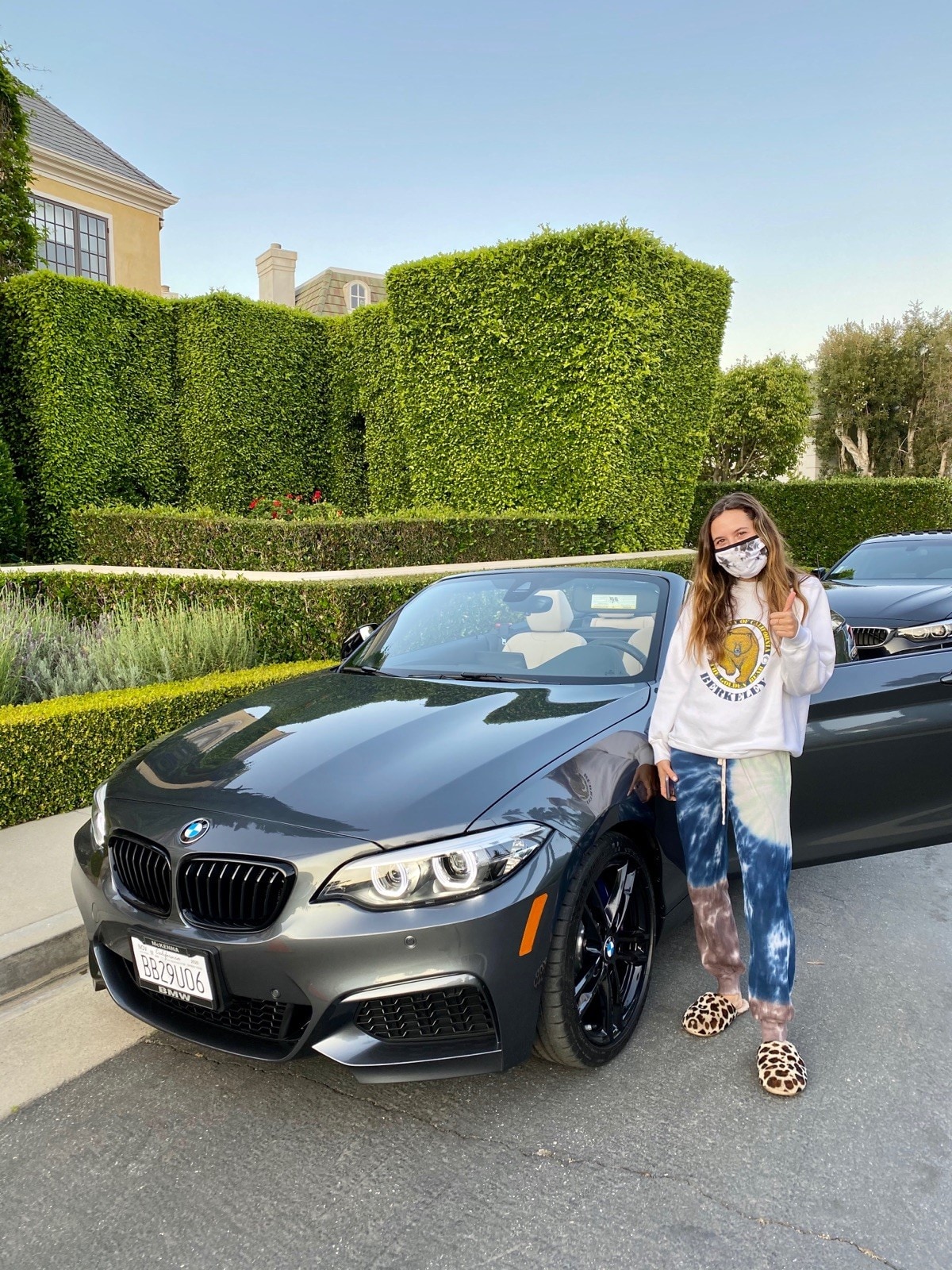 "Excellent service from Omar, will recommend Omar to everyone that I know. Thank you so much!"

- Daryl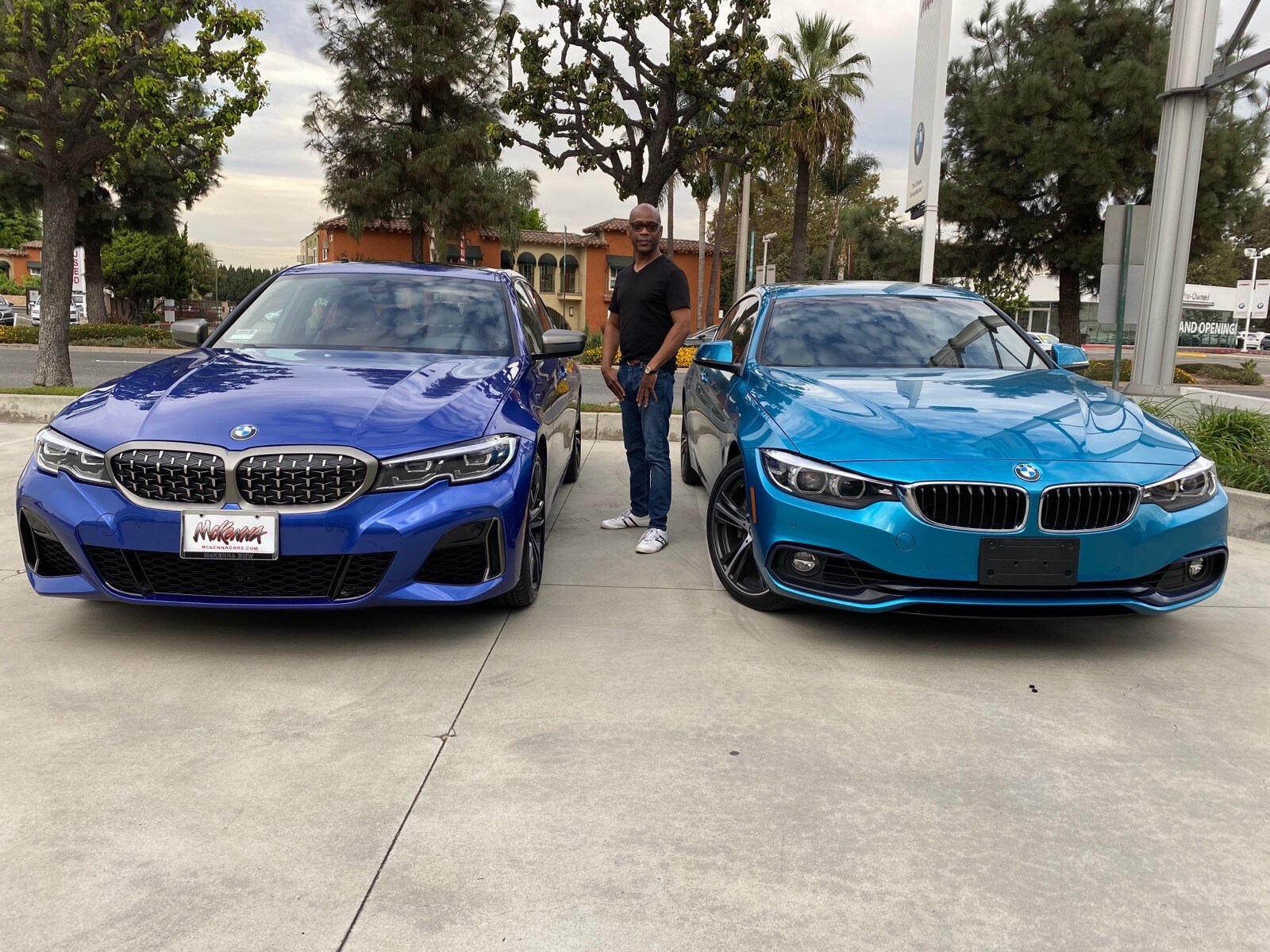 "I really enjoyed Omar and Johnny helping me find a great M3. Omar was great in showing me and explaining the car. Great experience I would come again."

- Thomas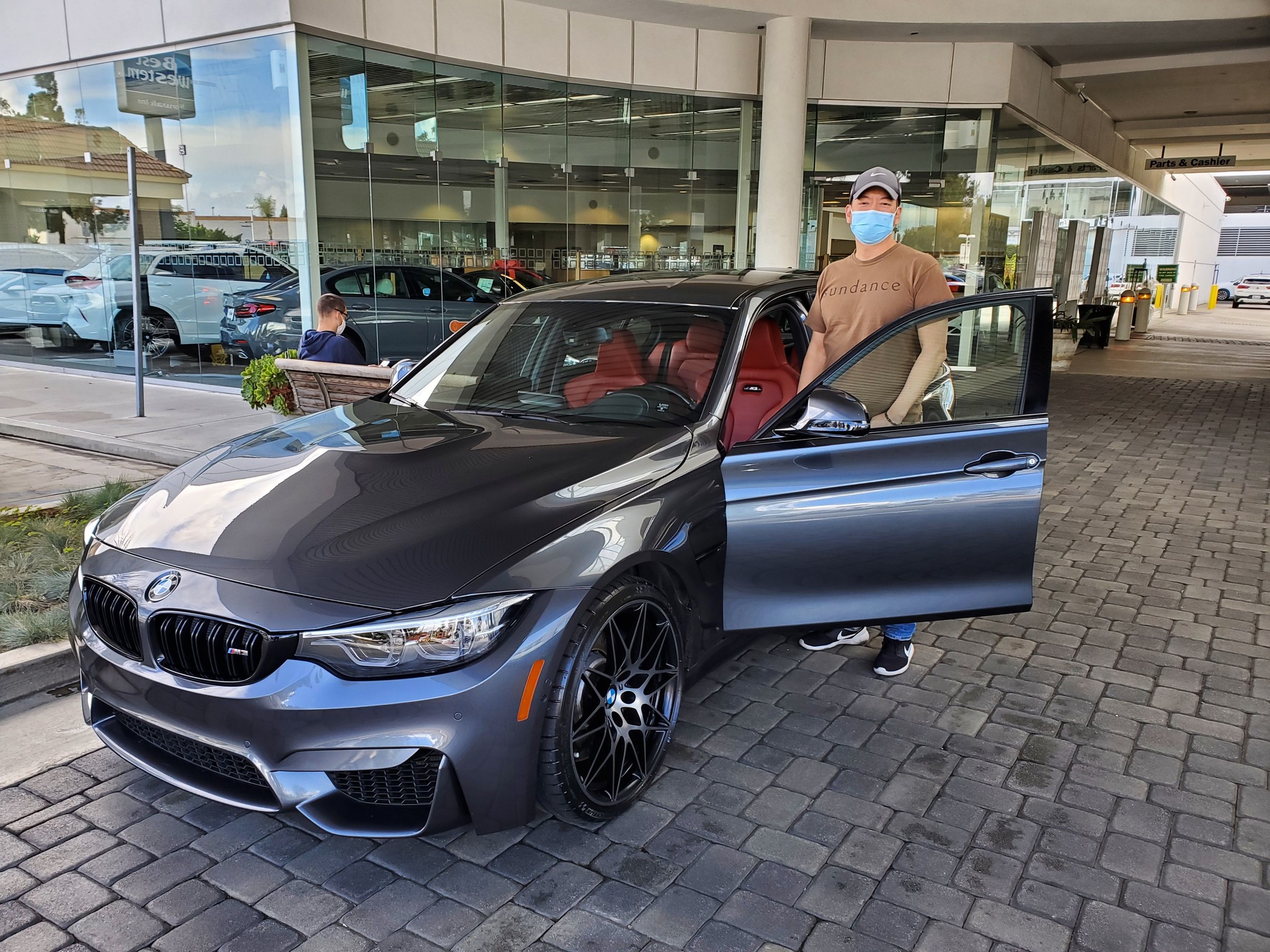 "Amazing! Noah took great care of me. I love my new car. Thank you"

- Albert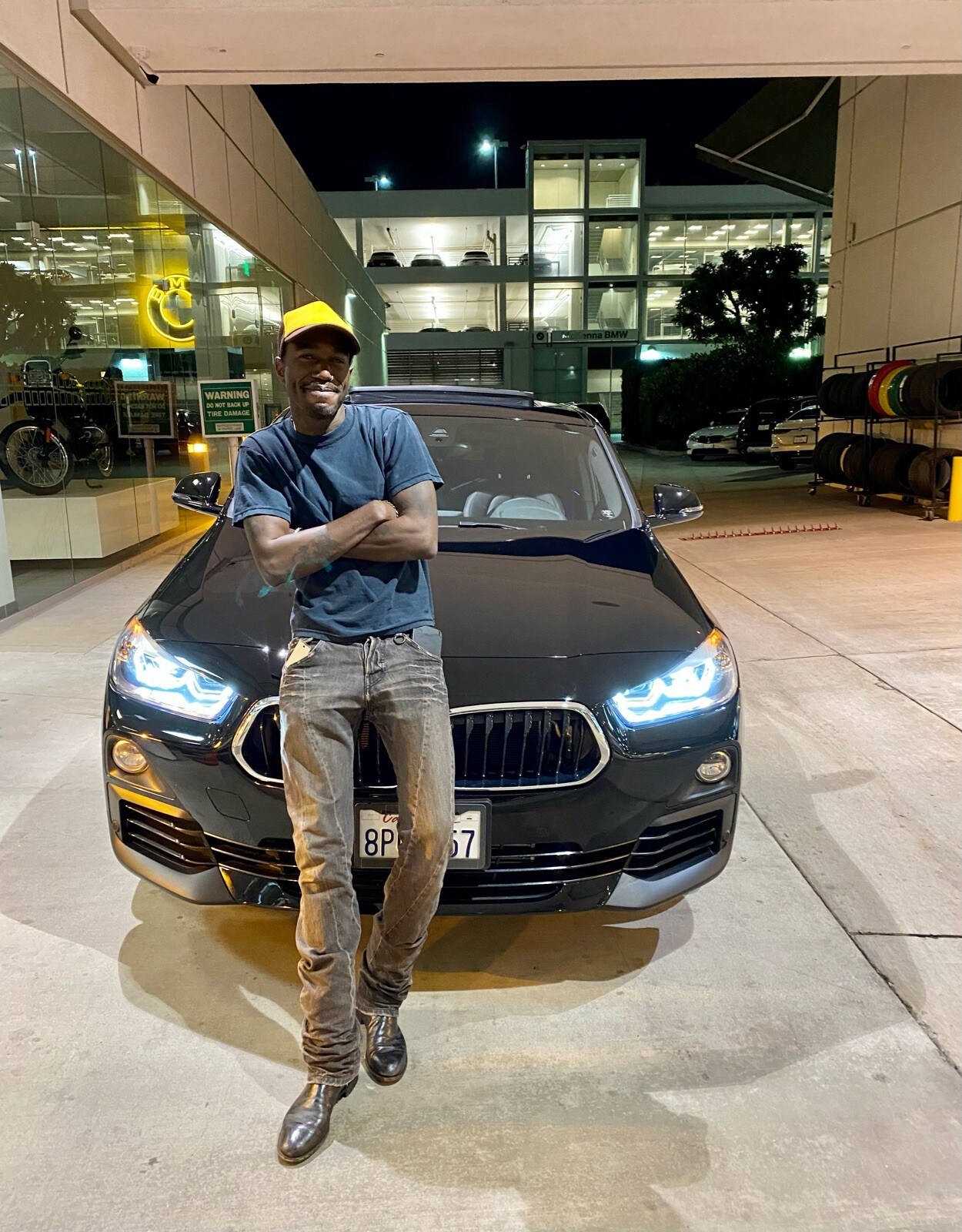 "Scott was very helpful and was able to make best possible deal for us. We are fully satisfied and happy customers!"
- Anna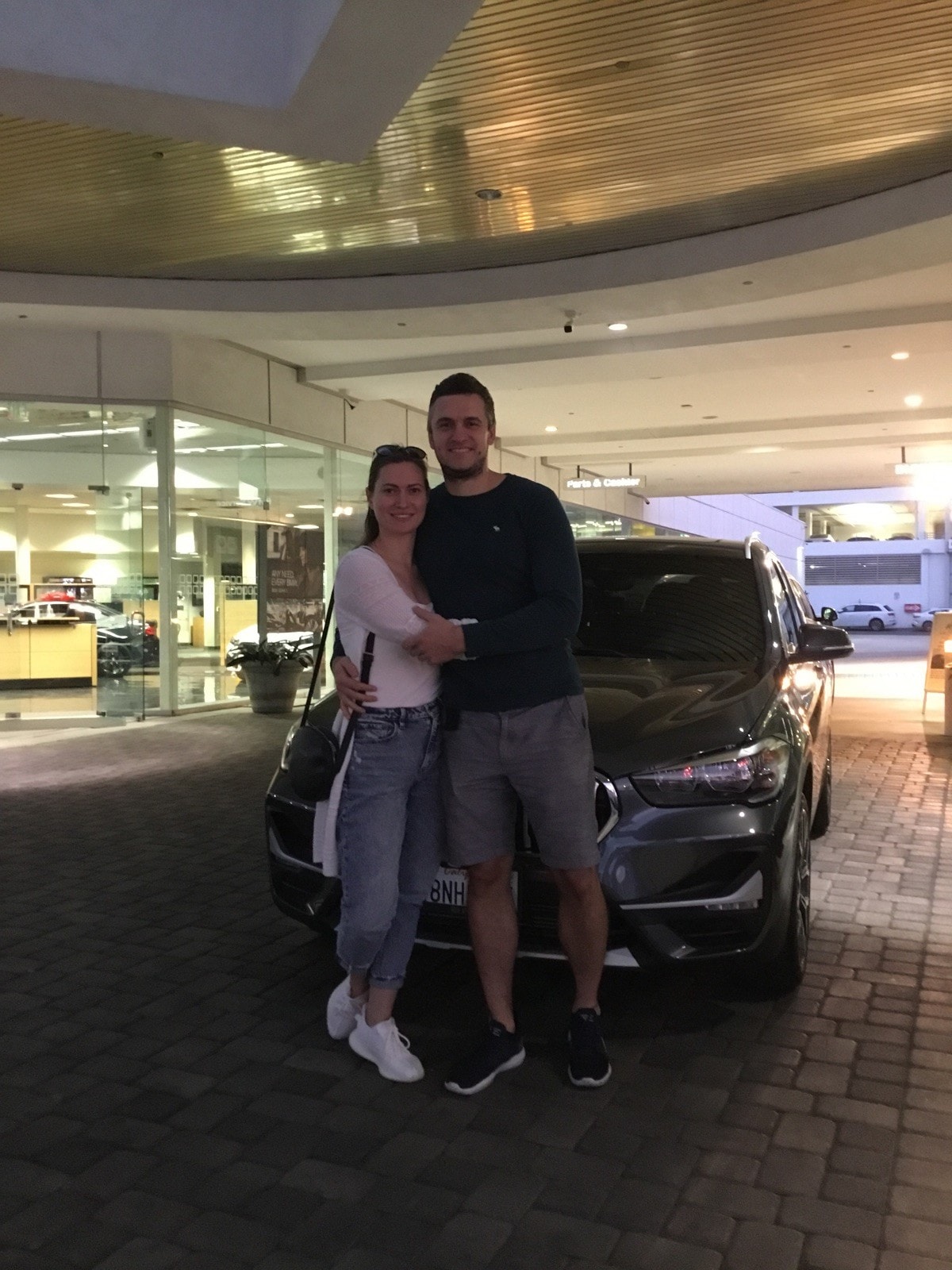 "Been with Noah at McKenna last 4 cars greats cars great experience. Will return recommend to all my family and friends"
- David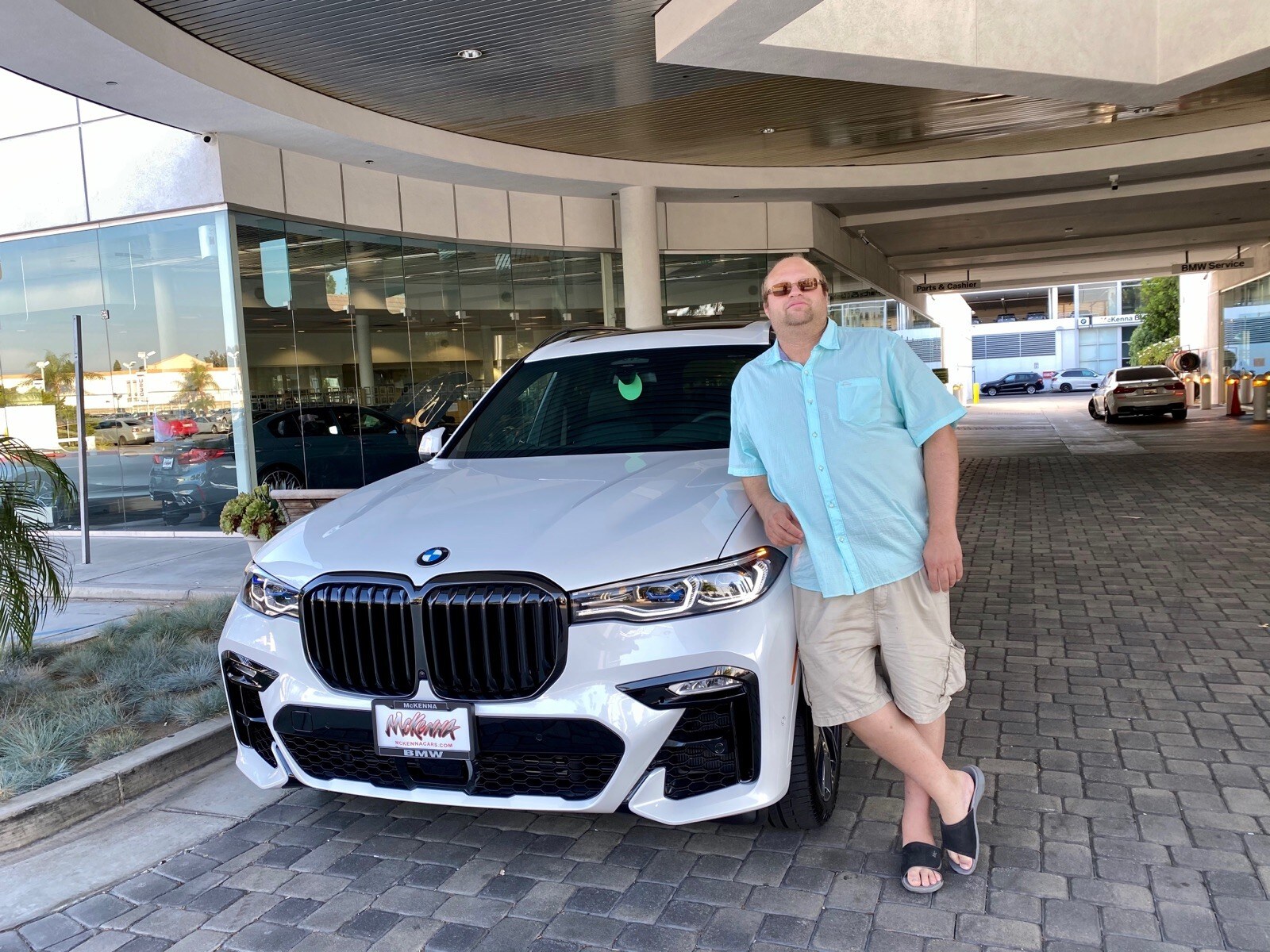 "Great customer service. Transaction time was too long when I had pre approval completed before I arrived get car. Omar in pre owned sales and Kristen did nice job."
- Christina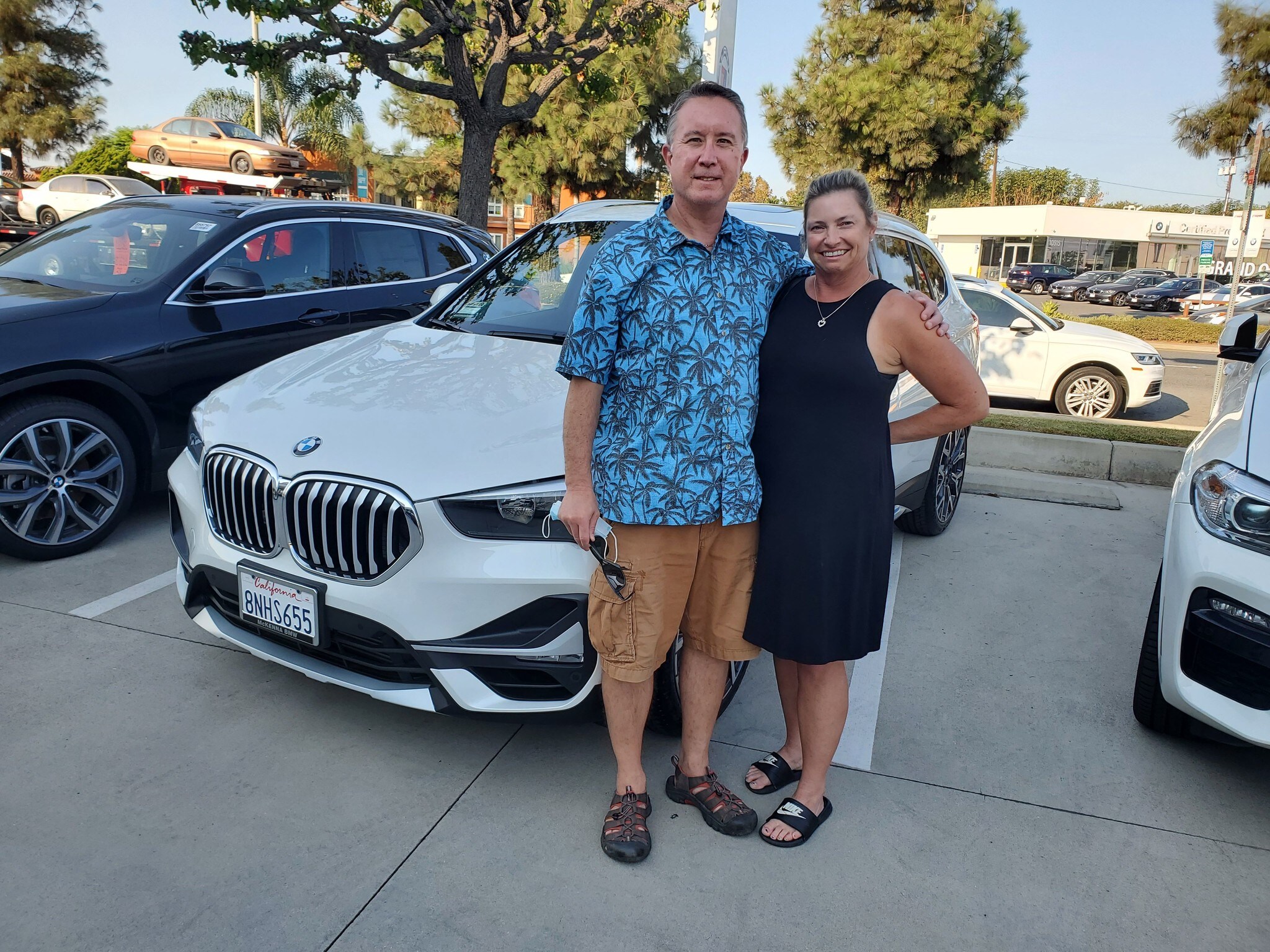 "Absolutely fantastic Omar was of excellent service made my experience here at BMW great!"
- Edwin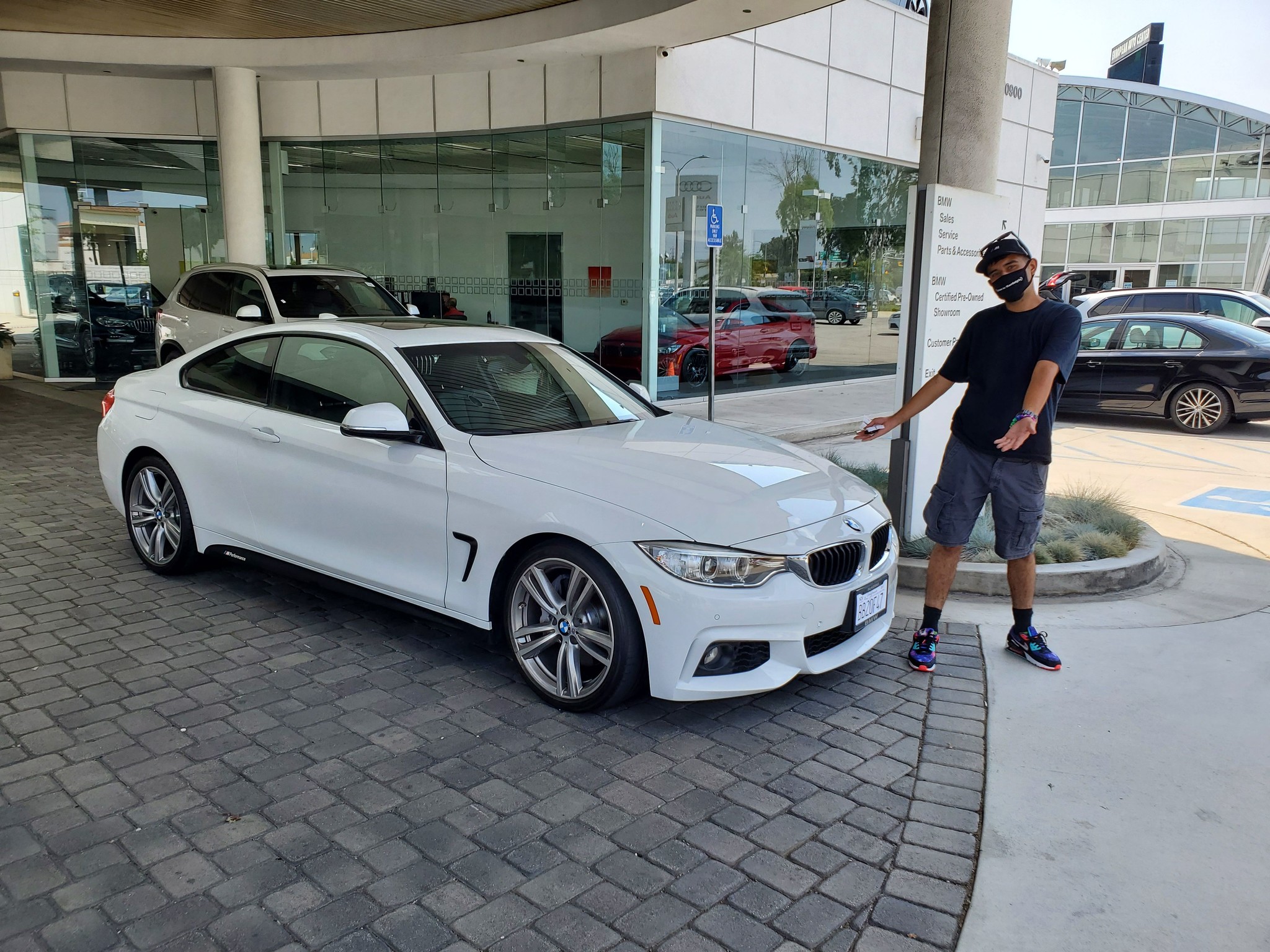 "Omar Zyout was very professional, heard me out and works with what I want. Not the first time I work with him. I know that he's the guy to go to whenever I want a new BMW. No need to be going back and forth with gibberish ness."
- Yossmira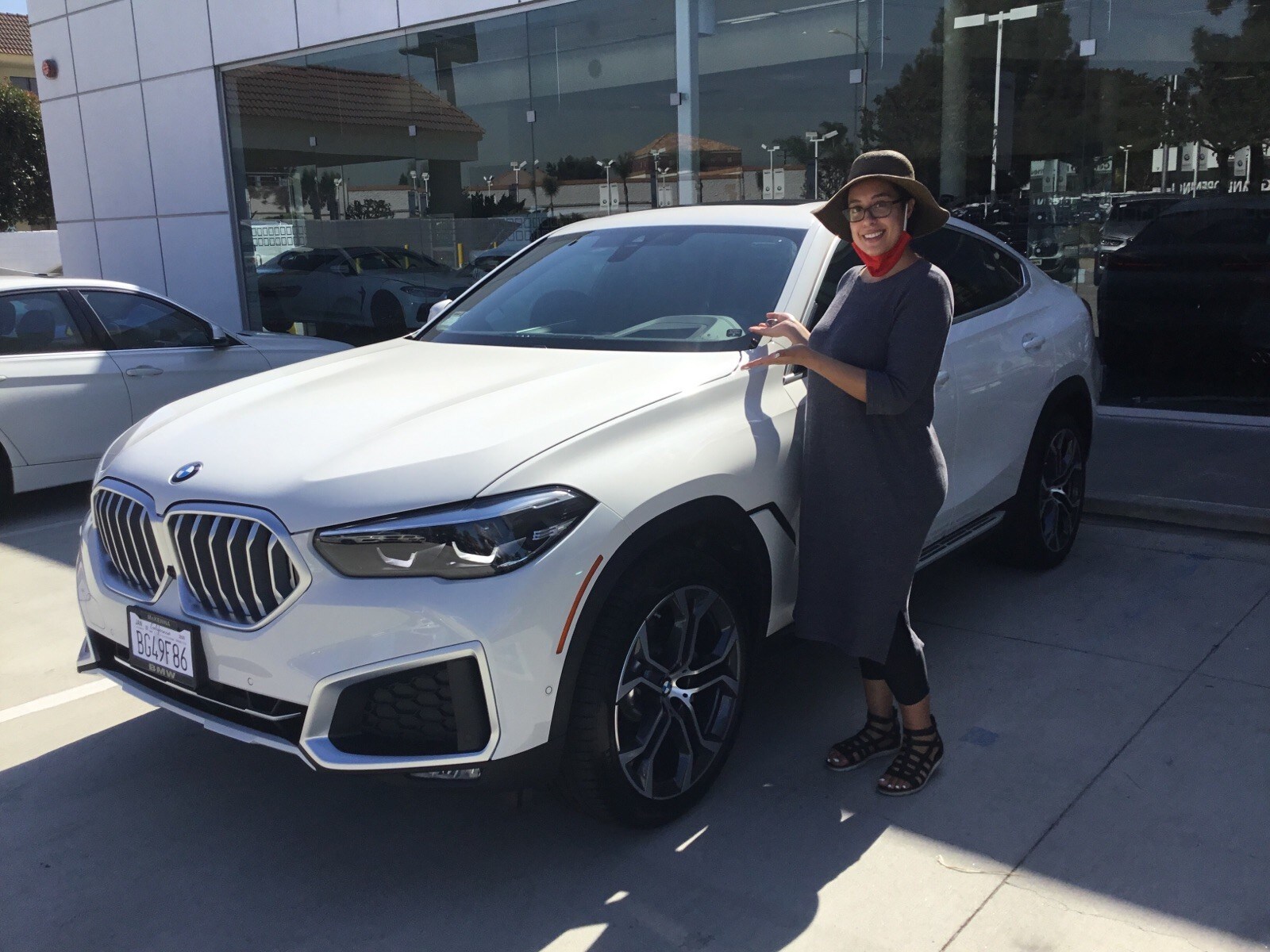 "This was the best car buying experience I've had in my lifetime. I've owned a Ranger Rover before this car and l did not have this level of customer service and courtesy. Omar Ali and Kim were all a class act team together! Thank you again we will be back to buy my Mom's dream car too."
- Deena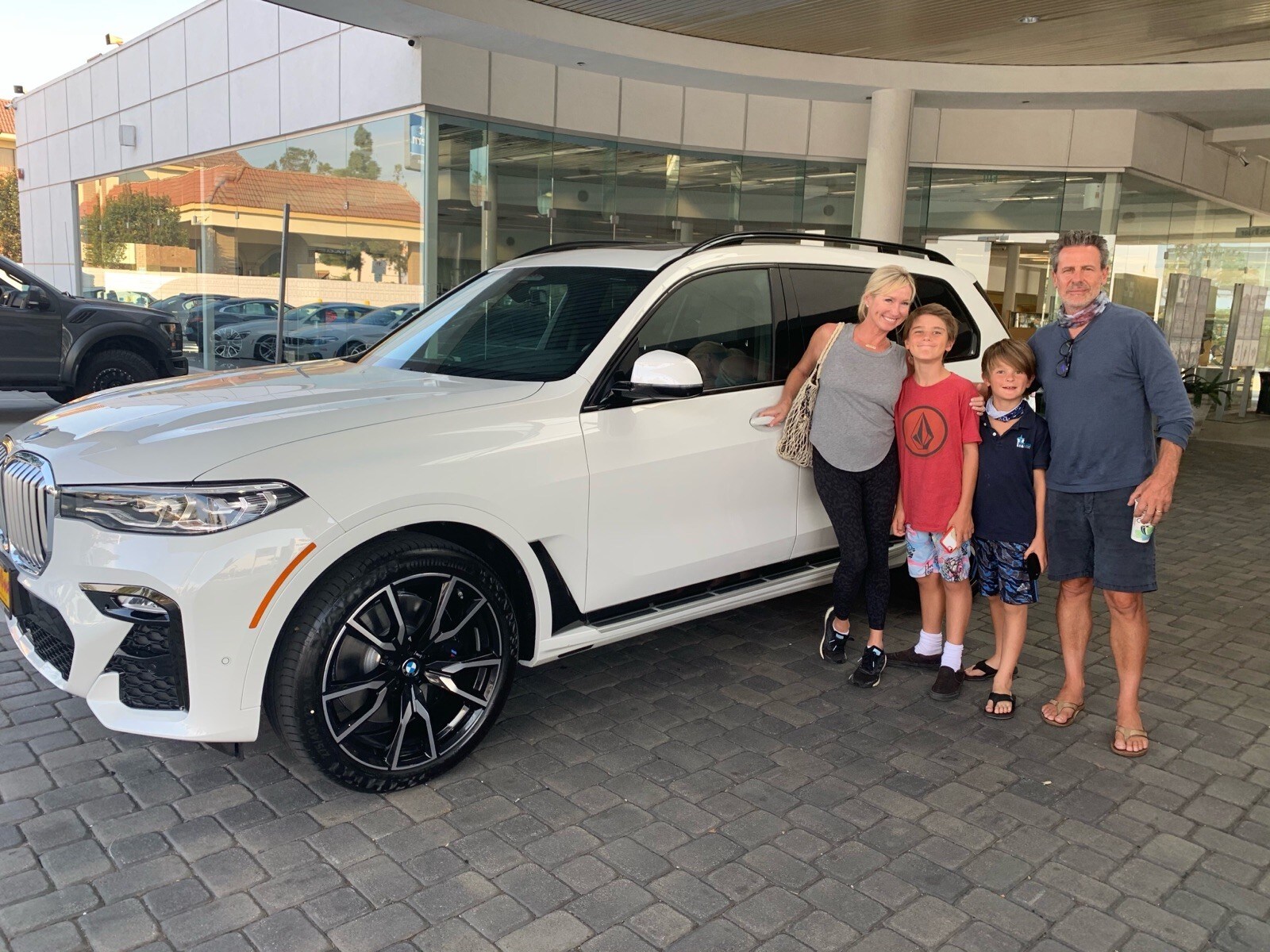 "Kevin was very thorough and professional and at the same time very down to earth. Overall a great experience, I would highly recommend him."
- Lourdes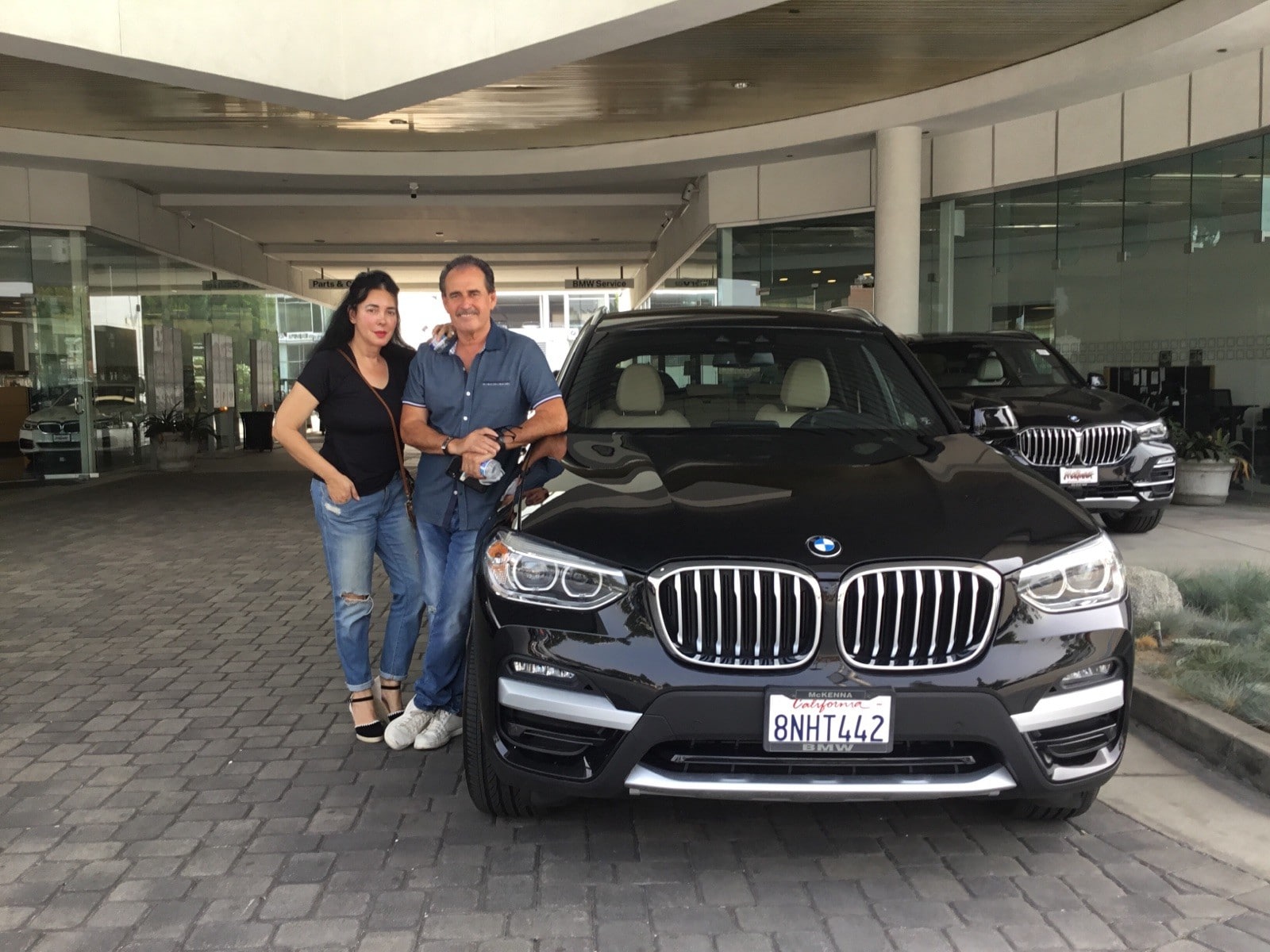 "Great service today. Very helpful and we got exactly what we wanted. We love our new X5 and appreciate all the help. The showroom was beautiful, comfortable and very clean."
- Eric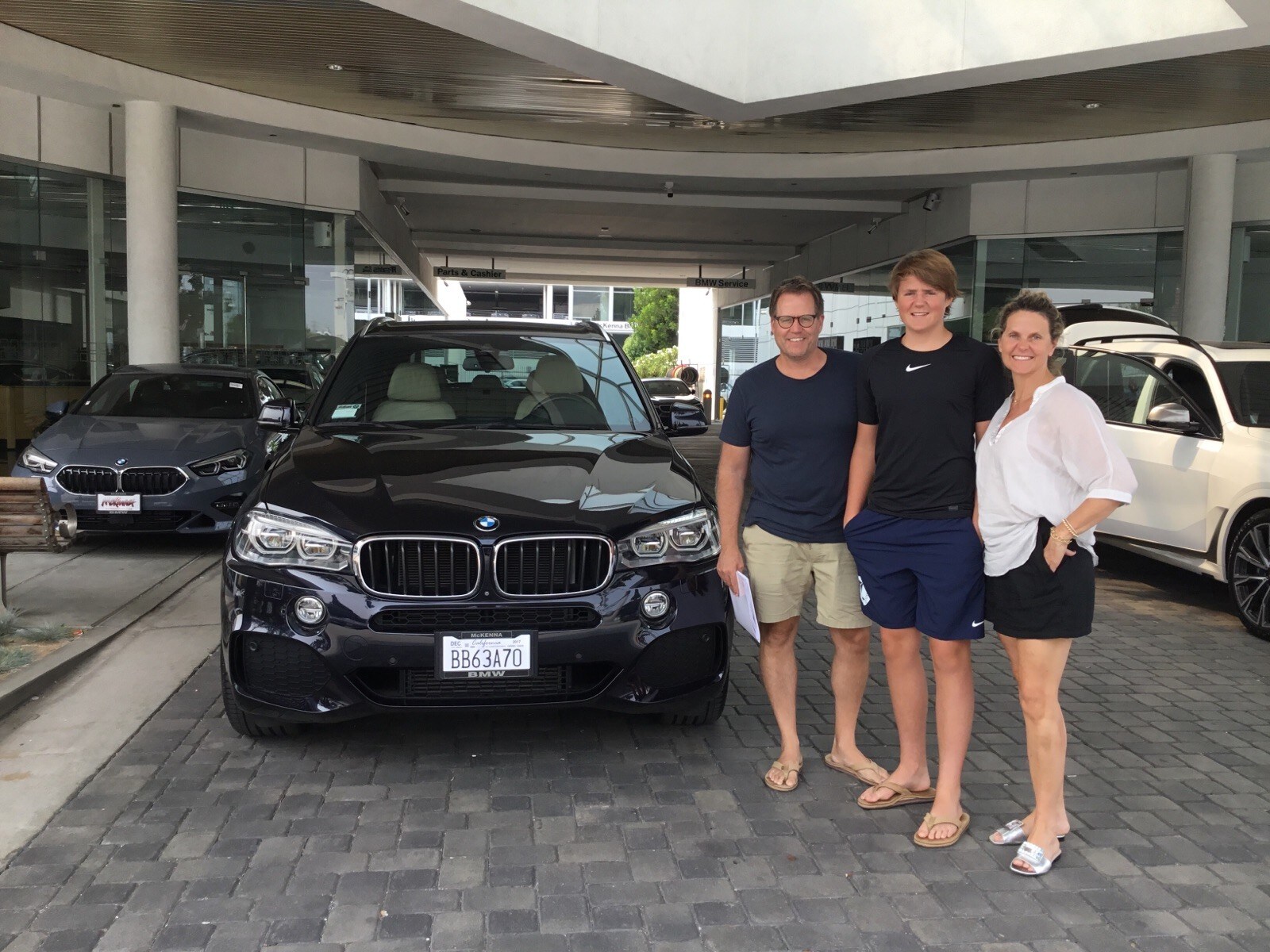 "Kevin, Terri and Tremayne were very helpful to us. We were one of those picky customers that took a long time to decide on a car. Everyone was extremely accommodating, patient, professional, and understanding. No one pressured us to make a decision we were uncomfortable with and they were always willing to go the extra mile for us. I will come to this dealership for all of my BMW needs, and I highly recommend them to others."
- Bobby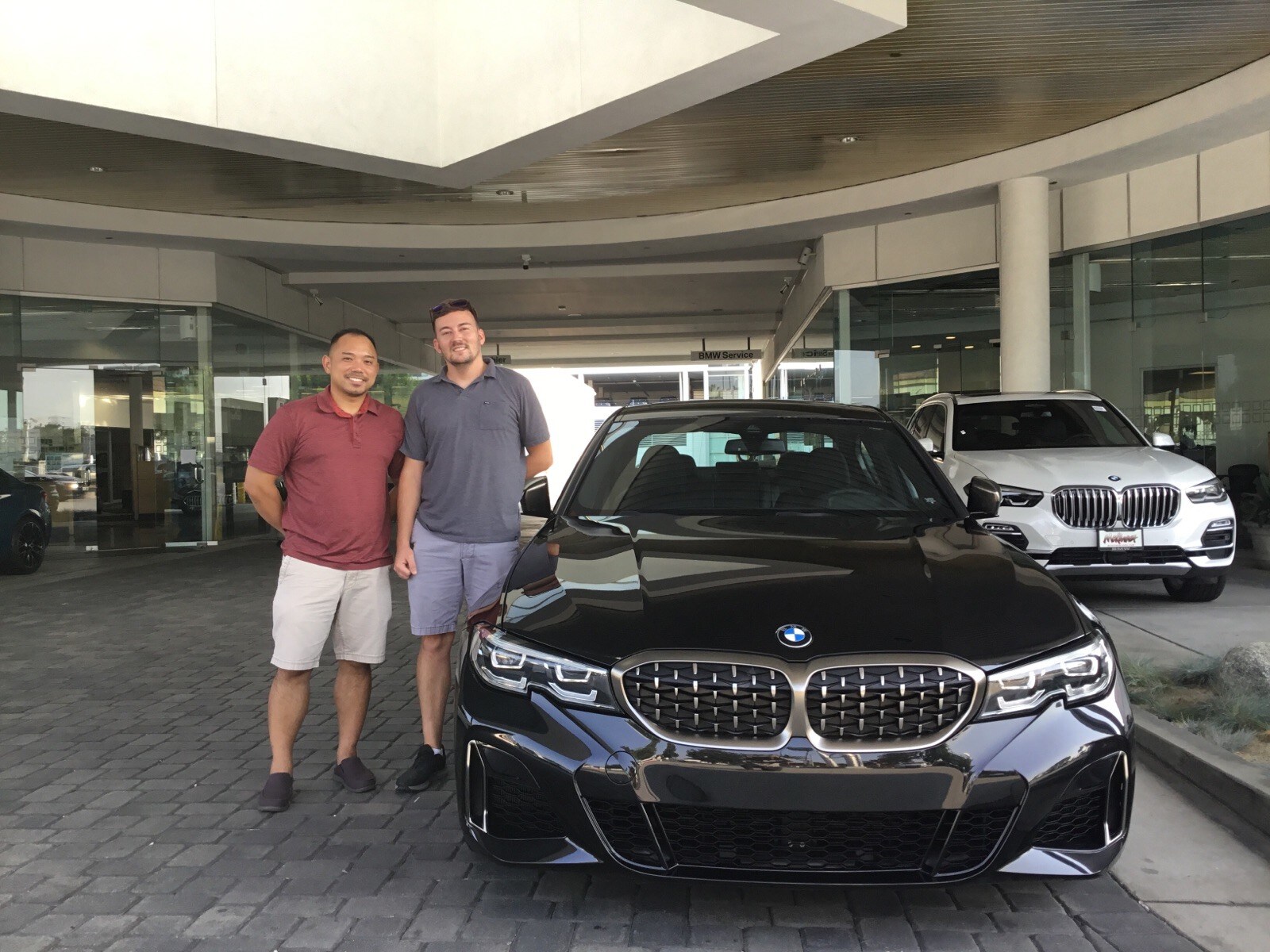 "Dear McKenna BMW, 
Anna was a great sales consultant she gave me an excellent review of my vehicle and explained all the features. She was knowledgeable and answered all my questions with a positive attitude. I will definitely recommend my friends to visit this dealership thanks to her outstanding customer service skills."
- Aaron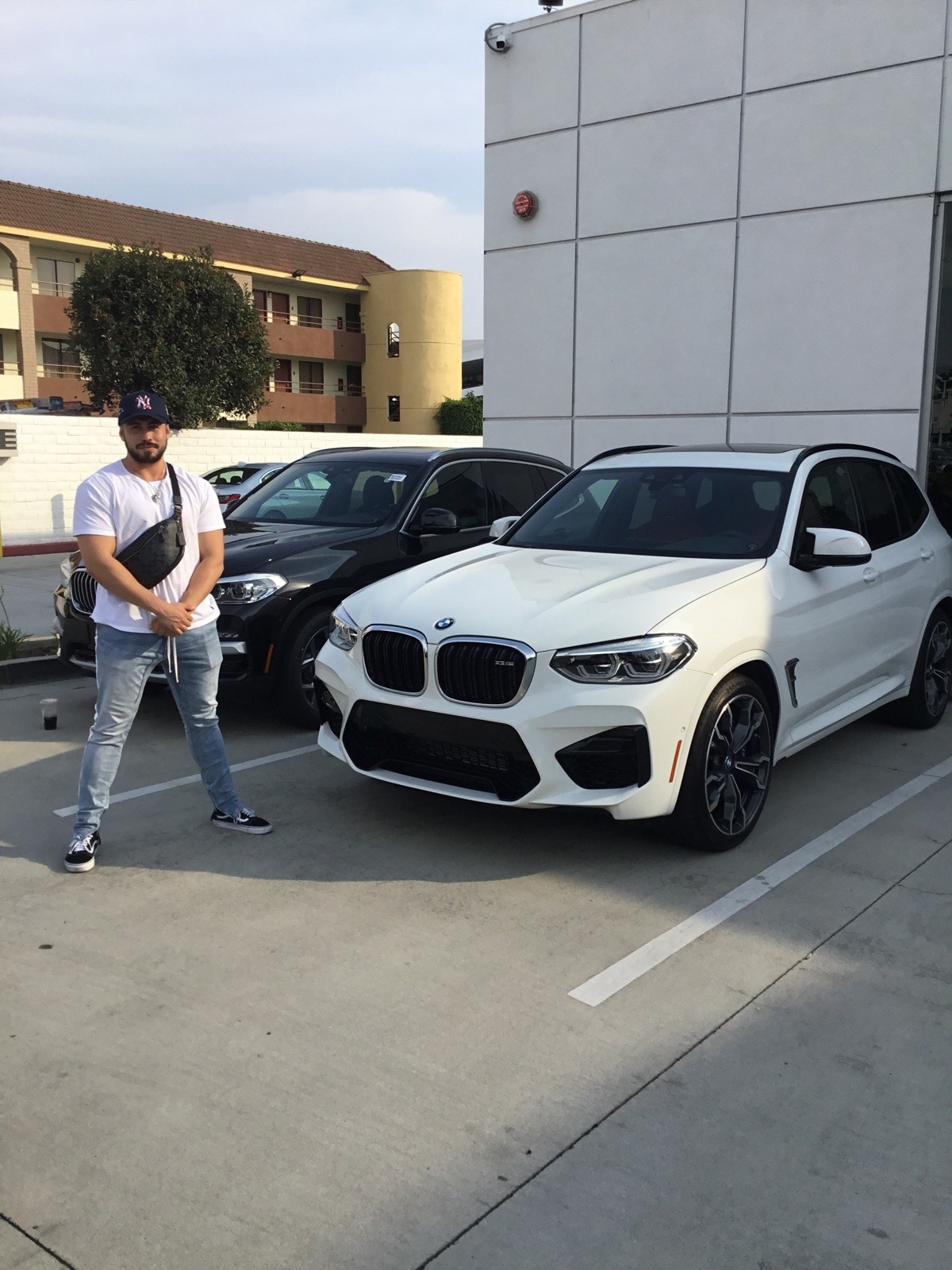 "Had an amazing experience with Kevin Lam from McKenna BMW. Thank you Kevin for making my buying experience easy and smooth. You made it work for me and made the numbers look good to impress my husband. I appreciate your transparency and honest opinions. Finally going to take my dream car home. Thank you so much! Yay!!!"
- Venus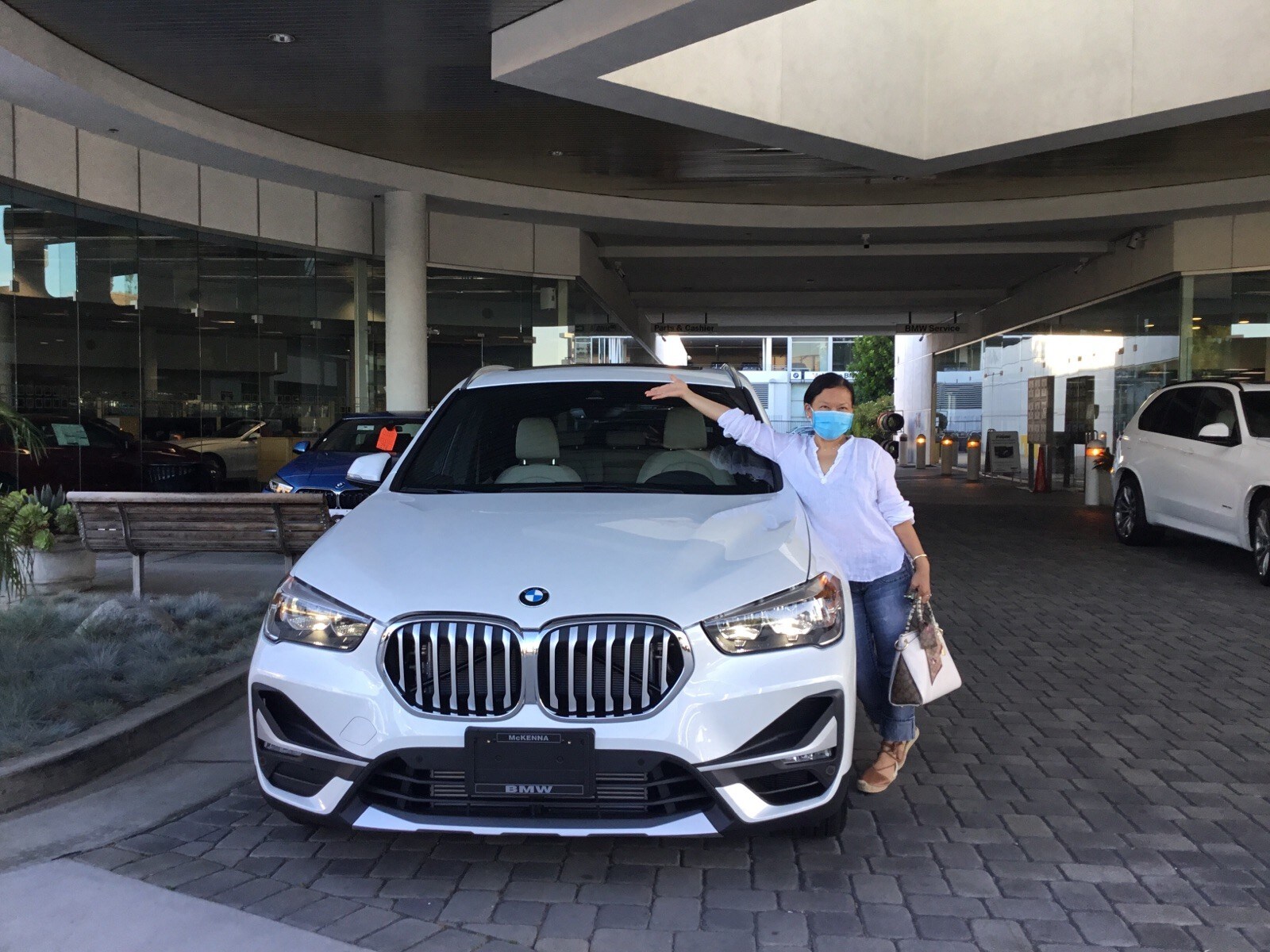 "We love McKenna! Fabulous place! Noah was awesome!"
- The Furey's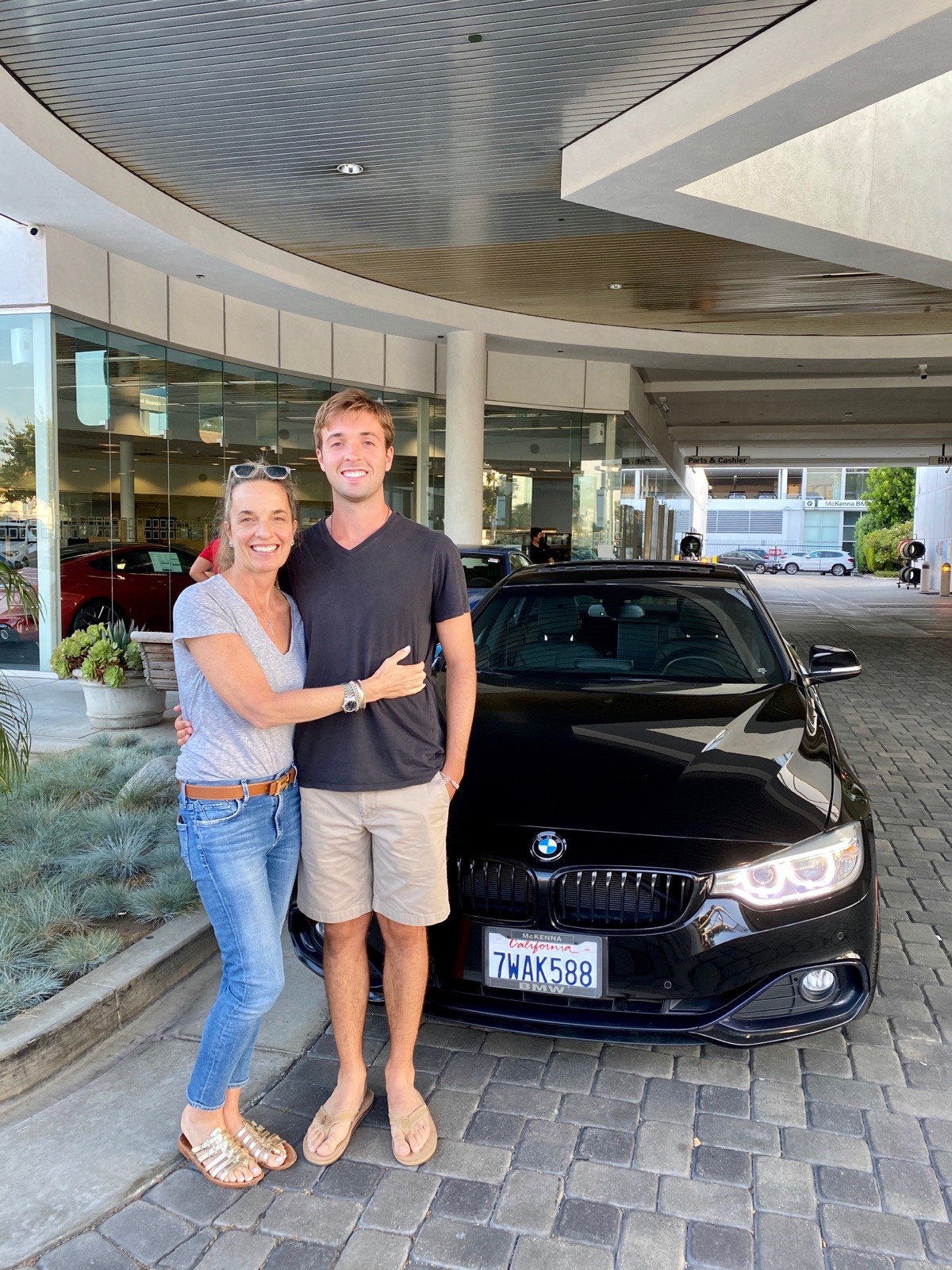 "Great customer service was excellent. Really recommend everyone to come here. Thank you!"
- Mohamed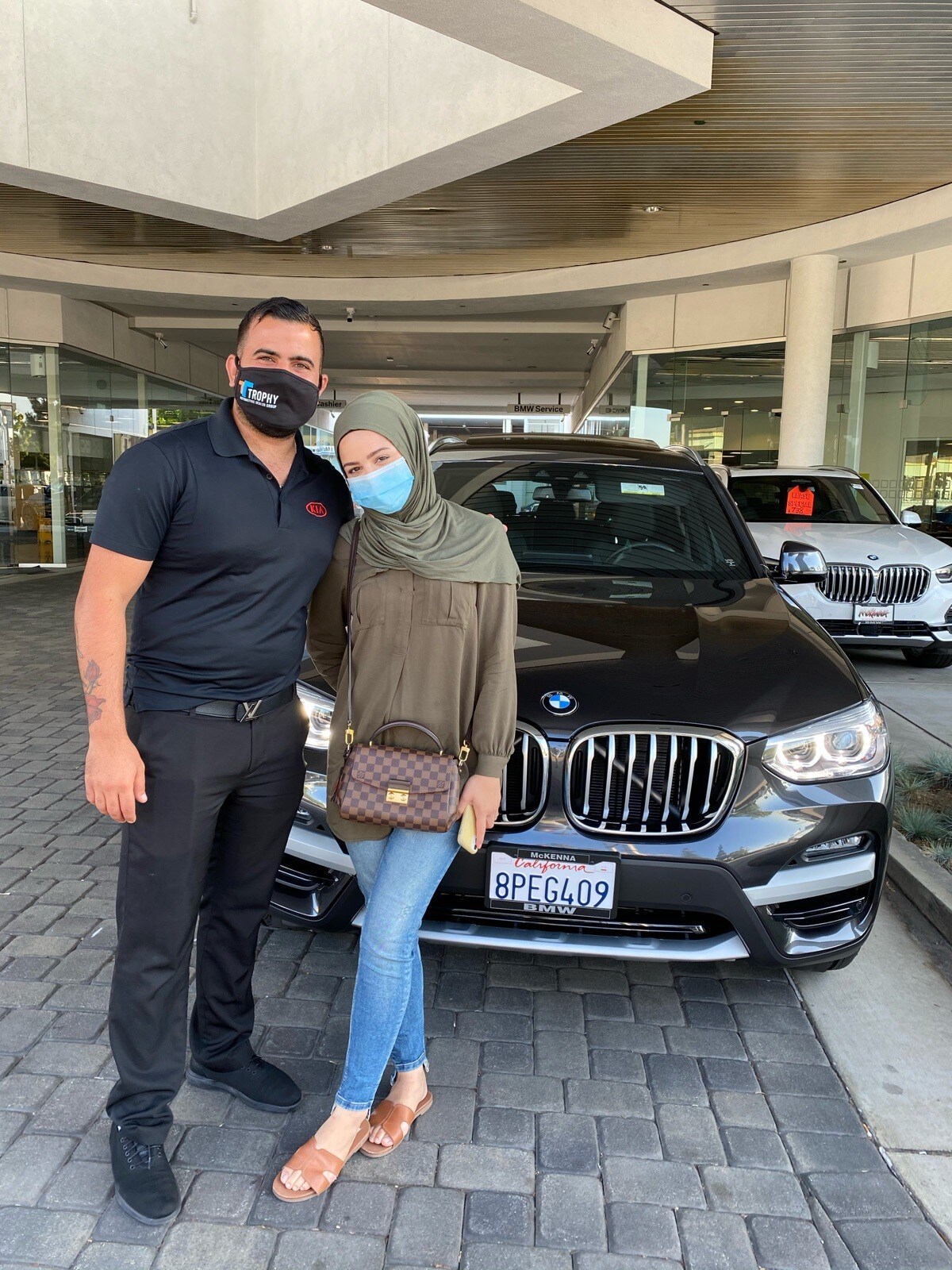 "Noah was fantastic. Quick, easy, clean. Thank you sir for getting me into my dream car!!!!"
- Amin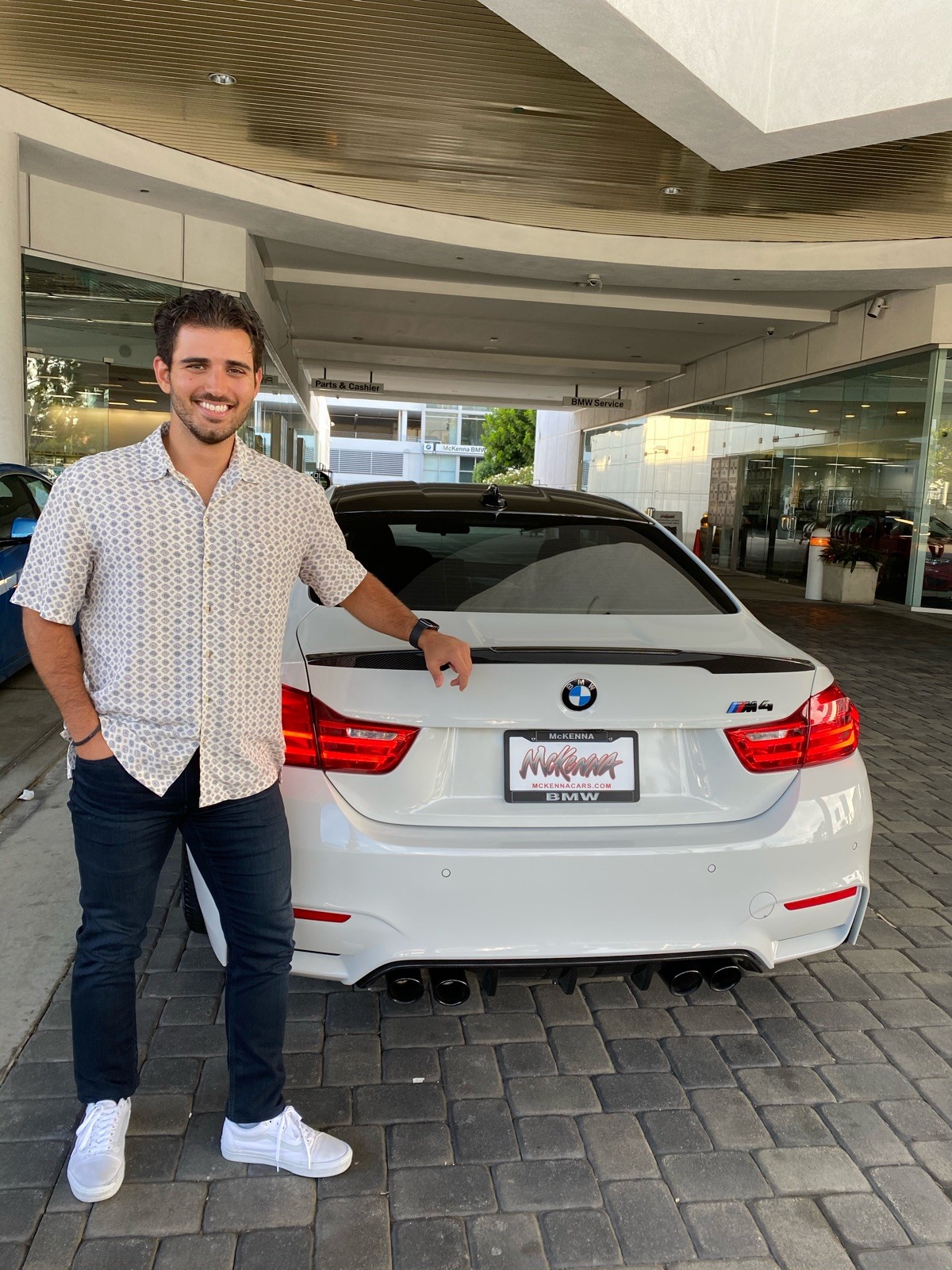 "Great service, beautiful car and we love it. Kevin and Ali took care of us very well!"
- Thomas